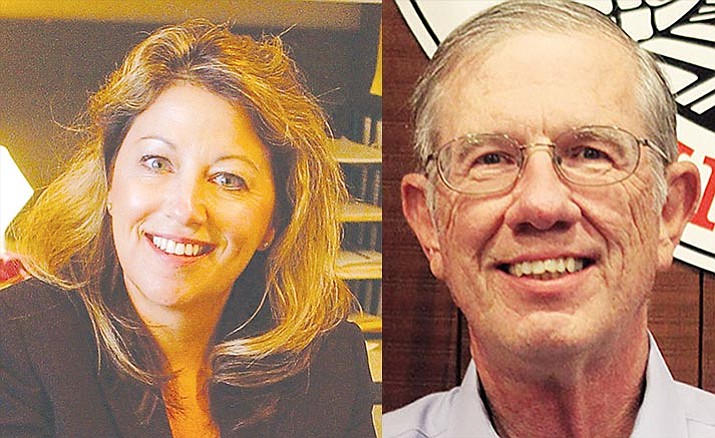 Originally Published: November 6, 2016 6:03 a.m.
KINGMAN – Tuesday's mayoral election will give voters a chance to select the top leader of the city, and with important issues in view, such as Kingman Crossing and downtown revitalization, the stakes are high.
Incumbent Richard Anderson faces off on the ballot against Monica Gates, who was mayor from 2004-2006.
When asked why voters should give him the nod, Anderson replied, "I think it's fairly obvious if you've looked at what's happened over the last six years. As we've come out of a recession, we have slowly built our capabilities to respond to the citizens' needs.
"The downtown has re-emerged as the leading place for both visitors and Kingman residents to go enjoy themselves, eat, have some nightlife. The theater is coming.
"Plus, we've been able to put together a capital improvement plan and fund at least engineering of several major projects that should have been addressed years ago but that have carried themselves over."
Anderson said eliminating debt and lowering sewer rates have also been under his watch.
When asked the same question, Gates, 54, said, "Because I'm bringing leadership. I'm bringing energy, and I'm bringing growth to Kingman – planned growth. I'm looking to create a strategic plan with the City Council to move our community forward."
As for some goals looking into the future, Gates said, "Kingman has a lot of projects and has a lot of needs, and it really comes down to prioritization. One of the first things we need to do is initiate the Kingman Crossing project.
"That's long overdue. That's been about 10 years in the planning stages and it's time to get that going. I want to work with the Airport Industrial Park so that we can get better paying jobs to our community as well.
"We want to look at an economic development strategy to bring better businesses and better paying jobs to the community."
She also said she wants to "work with the downtown regarding revitalization efforts and work on some quality of life issues such as partnering with the schools to provide our children a top-notch education."
Anderson, 70, says he is proud of his work while mayor.
He said his main goals are boosting Kingman Crossing, improving Airway Avenue, bolstering the police department with more "technical capability" to deal with a changing society, and continuing the downtown improvement.
When asked about his chances, Anderson said, "If you look at the body of work in the last six years, the lack of significant turmoil within the city, I think it speaks for where we are. We've got plans, we're moving forward and frankly it would be a setback if a new person comes in," Anderson said.
"I'm very actively involved in community activities. You can see me roaming the street talking to people. Going into businesses. I've established very good relations with the economic development and international trade office in Nevada, our governor's office, commerce office and the Arizona Department of Transportation," said Anderson.
He said he was "actively looking for partners to help us in economic development to bring activity to Kingman."
As for her outlook on the race, Gates said, "I feel very positive. I've had a lot of engagement in the community, and I'm getting very positive feedback. There is a different energy now in Kingman.
"I've met a lot of people who want to see this town grow and prosper and are willing to work together to make that happen."
Gates continued, "I certainly encourage everyone to get out and vote. Because I truly believe that what happens in local governments affects your day-to-day quality of life more so than anything else."