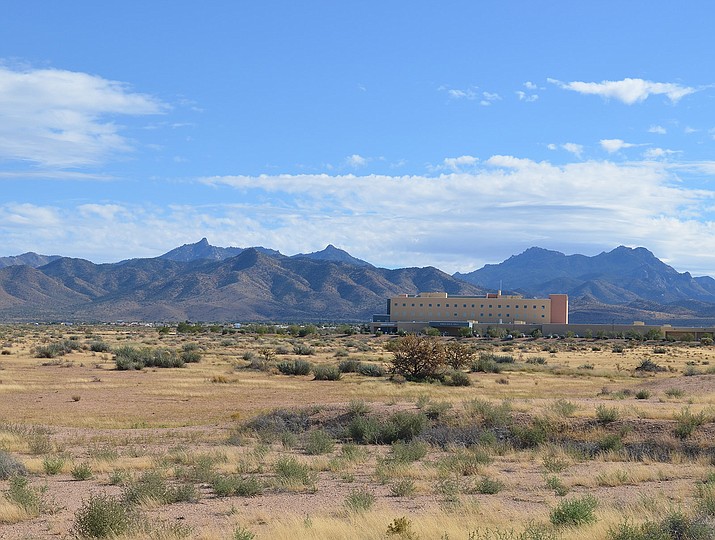 Photo by Aaron Ricca.
Originally Published: November 6, 2016 6:04 a.m.
KINGMAN – Voters will have a say Tuesday – Election Day – regarding the public-owned Kingman Crossing land that could determine the direction the city is headed.
Those who cast a ballot will be asked if they support the city selling around 150 acres of land south of Interstate 40 and west of Cherokee Street. The property does not include approximately 17 acres on the western portion. That will stay as parks and open space.
The sale of the property may only be done through a formal bid process. An official appraisal of the property will be conducted in the near future.
The land is seen as a key to the construction of a fourth interchange off Interstate 40 in eastern Kingman, with anticipated retail businesses to follow. The increased taxes from the new business can pad city coffers to help pay for services. The city relies heavily on sales tax since there is no property tax.
But before anything can proceed with Kingman Crossing, the city will have to send out request for proposals for the entire proposed development, according to Mayor Richard Anderson. That's because the state of Arizona does not have any money earmarked for the interchange.
The plan got a boost earlier this week when Kingman Regional Medical Center purchased 160 acres on the north side of Interstate 40 for $5.3 million. That acreage is close to KRMC's Hualapai Mountain Campus.
KRMC has said it would pledge money toward the construction of an interchange.
"At this point in time it's not in (the state's) plan," said Anderson. He said an interchange was in the state budget at one time, but it fell out. So an interchange will have to be a private one, said Anderson, unless the city can obtain a state or federal grant.
"It's too early to say what's going to happen," said Anderson, because of myriad unknowns. He said the proposed plan has two phases: The first is getting a road in, and the second is the on- and off-ramps followed by commercial development.
He said he is concerned about north-south access in eastern Kingman, which is currently hampered by the interstate and railroad. The lack of access has been especially troublesome for emergency personnel, such as fire and police.
"We're going to do what's best for Kingman," said Anderson.
City Manager John Dougherty said Kingman Crossing is huge "since we're almost completely dependent on sales taxes. We just don't have the money to add police and fire."
Dougherty continued, "From what I understand, people want this to happen."
When asked about the city's chances for securing a federal or state grant to help, Dougherty said the chances were "probably very slim."
He said he was personally in favor of developing Kingman Crossing, but that it's important for voters to send city leaders a message one way or the other.
City Councilman Larry Carver said he thinks the Kingman Crossing development is "definitely needed" for a number of reasons. He said it would increase access to the eastern part of the city for public safety, bring in new businesses, decrease traffic on city streets and help Kingman Regional Medical Center's Hualapai Campus take care of patients.
Plenty of the new housing development in Kingman is near Kingman Crossing. The closest fire station is on Harrison Street on the other side of Andy Devine Avenue.
"It's one of the future areas for Kingman to grow," Carver said. "It's one of the things that needs to be done for growth to continue in Kingman."
When asked about the importance of Kingman Crossing to the city on a one-to-10 scale, Carver called it an eight.
"I'm hopeful we've done enough work on (Kingman Crossing) so people can see the benefits," Carver said.
He said he hopes everyone does their homework and "votes their conscience" while taking into account the "potential impact it may have."