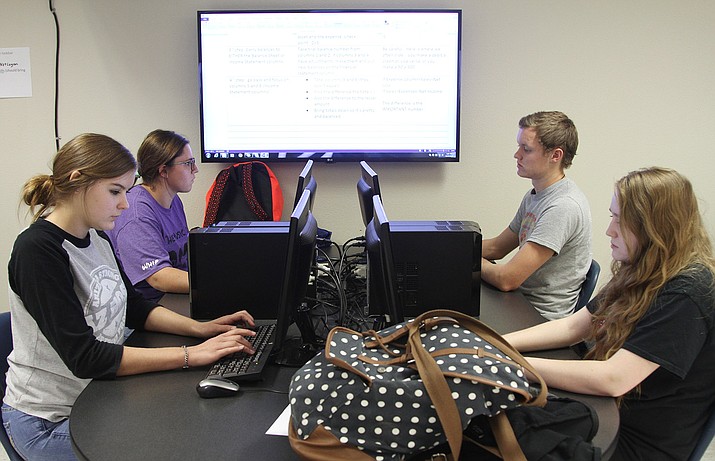 Photo by JC Amberlyn.
Originally Published: November 9, 2016 6 a.m.
Kingman Daily Miner, you published an article about AzMerit test scores. The article was accompanied with a picture of four Advanced Placement, Dual Credit enrolled students from Kingman High School, working in their Accounting Class. Serenity Lynch, Delanie Cencelewski, Scotty Winder, and Michelle Thomas are excellent students. They all four value education, contribute to a positive working community at school, as well as in the community of Kingman. Also, they do well on all tests.
When the newspaper interrupted our class, to take a picture of business students, the students were gracious and excited for the possibility to have a picture in the newspaper. They are now embarrassed because the article was so negative about KHS, and it insinuated that they failed the AzMerit test, and that they are in a remedial class. The article portrayed KAOL in a very positive light. Why didn't you go to KAOL and take a picture of their high achieving students?
These four students, along with the rest of the class, chose to take Accounting because they are interested in business. All four students plan to be part of Kingman High School's Business Management and Administrative Services Program.
Last year, on the BMAS state administered standardized test, Kingman High School's average EXCEEDED the state average by 13.5%. Additionally, according to Certiport, who is the sole provider of Microsoft Office Industry Tests, in the state of Arizona, Kingman High School certified more students in MOS Industry Certifications than any high school in the state, including the big Phoenix schools. And, legislatively, Industry Certification has become mandated in Arizona. Also, last year our students in the Business Management and Administrative Services Program earned 218 college credit hours in business and computer information. Kingman High School offers 11 different Career and Technical Education Programs, and most of those programs have results similar to our BMAS program.
Kingman Daily Miner, you have heard the saying "it takes a village." You play a role in this village. Please make your role one that values education, supports the process, and celebrates our awesome students, no matter what high school they choose to attend. Kingman High School students are phenomenal in all kinds of ways! We welcome you to come and discover our successes!
Thank you,
Jean Meersman, M.Ed.,
Microsoft Office Specialist
Business Instructor
Kingman High School
Note: The photo was not intended to serve as an insult to the students and the photo caption did not suggest those pictured failed a test. That said, the illustration was poorly executed considering the subject matter. We also note the Miner is eager to publish positive results when Kingman High students return from Future Business Leaders of America competitions.