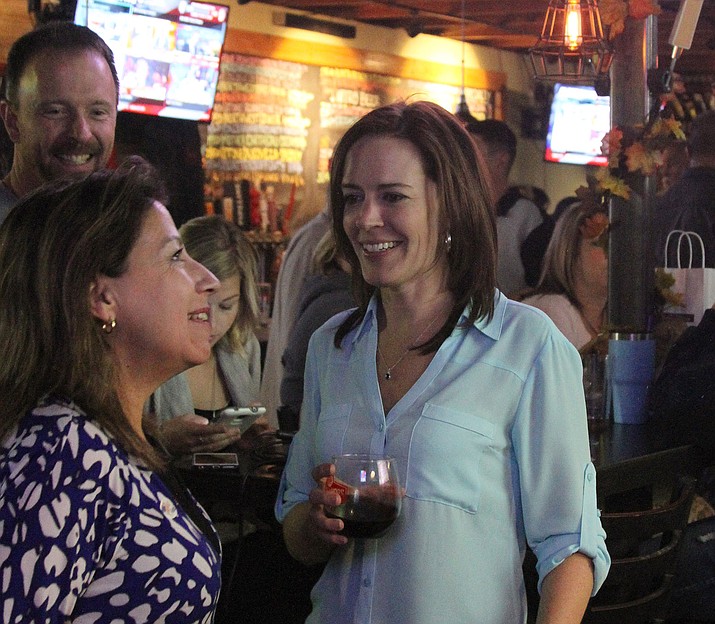 Photo by JC Amberlyn.
Originally Published: November 9, 2016 1:25 p.m.
KINGMAN – Kingman voters ended Monica Gates' 10-year absence from Council Chambers Tuesday, pushing her back into the mayor's chair with a 4,981-4,499 win over one-term incumbent Dick Anderson.
Both candidates are pro-growth, and both support the development of Kingman Crossing. The ballot question calling for the sale of 150-plus acres in the vicinity for retail development, supported by Gates and Anderson, passed handily, 6,549-2,823.
The City Council election offered a twist, with Gary Rucker finishing second weeks after he had decided to end his candidacy. Rucker's decision to end his campaign is binding, so David Wayt will join the Council though he polled about 250 fewer votes, 4,510 to 4,243. Jamie Scott Stehly totaled 5,048 votes to claim the other open seat.
There's also a change on the Kingman Unified School District board, where challenger Beth Weisser collected 7,258 votes. Incumbent Bruce Ricca finished with 6,755 to claim the second available seat, leaving incumbent Laurie Voss Barthlow (6,465 votes) on the outside looking in.
Mohave County also went for President-elect Donald Trump in a big way, giving him 51,312 votes compared to 15,536 for Hillary Clinton.
Of interest statewide, Joe Arpaio's reign as sheriff of Maricopa County. He lost to Paul Penzone Tuesday.
Arizonans also rejected a proposal to legalize small amounts of marijuana while supporting a measure to raise the minimum wage. The minimum wage will rise to $10 per hour in January, to $10.50 in 2018, to $11 in 2019 and $12 in 2020.