Photo by JC Amberlyn.
Originally Published: November 10, 2016 6 a.m.
Updated as of Thursday, November 10, 2016 5:04 PM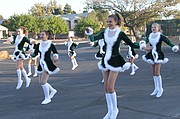 Twelve local girls, including Heather Hunt (above), have been chosen through a Kingman Parks and Recreation program to dance in Disneyland's Holiday Spectacular Show on Dec. 11 in California.
The 12 girls, ages 8-16, auditioned and were chosen out of 70 others to participate in the program. The other 11 are Chloe Hunt, Taylor Davison, Mariah Clouser, Fiona Pedi, Carlie Barnes, Gracie Woods, Amelia Spurlock, Lauren Page, Julianna Clouser, Aspen Johnson and Kayla Gravell.
Disneyland offers the competition to dance groups across the country and chooses through auditions which groups they allow to perform at the show in December.
A free dance recital is set for 6 p.m. Dec. 6 in Lee Williams High School.
Call Parks and Rec at 928-757-7919 for more information or call 928-263-7791 for information about the dance program.