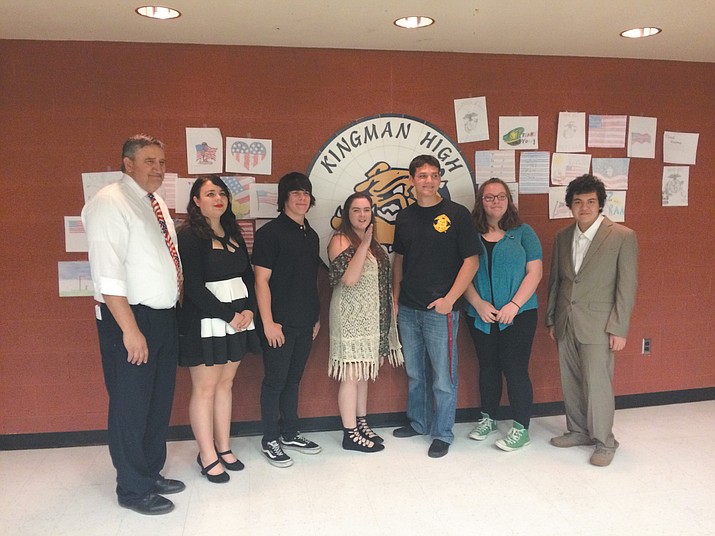 Photo by Hubble Ray Smith.
Originally Published: November 11, 2016 6:01 a.m.
KINGMAN – About 500 juniors and seniors jammed the Kingman High School auditorium Thursday to hear classmates read short speeches and poems on the importance of Veteran's Day, and they all stood at the end of the assembly for the Pledge of Allegiance.
Makayla Karn recalled her childhood days going to the Kingman Veteran's Day parade, even though she didn't know what it was about.
She thanked today's veterans for "putting up with this country, especially with everything we put you through."
Amanda Kroenke spoke about family and friends left behind by soldiers, and about the soldiers' comrades left behind in the battlefields.
And Kyle Rivera thanked the military services for our freedom, "and the flag that is still standing tall, even to this day."
Other speakers were Jacob Geesey, Mychaella Jones and Jacob Brinton. Kingman High principal Dave Kopecky opened the Veteran's Day assembly by recognizing active and veteran members of each of the armed forces, including the Coast Guard, who were in attendance.
It was a sparse showing, mainly because it was hard to get the word out in a short period of time, Kopecky said.
The Kingman High advanced choir sang the national anthem and "America," and Kopecky gave a short lesson on the history of "Taps," which was then performed by Colton Bell.
Before he read them, Kopecky asked students to reflect on the words in "Taps," and how they could be interpreted as both the end of the day and the end of life.
The bugle call was composed by Union Army Brigadier General Daniel Butterfield, and his bugler, Oliver Norton, was the first to play it.
With its quiet, mournful mood, "Taps" is played at military funerals at Arlington National Cemetery and at thousands of other funerals across the nation, Kopecky noted.
The principal also mentioned the 100,000 veterans of wars in Iraq and Afghanistan who came home with PTSD, or post traumatic stress syndrome, and the 100,000 homeless veterans.
The school is raising money through on-campus efforts to be donated to Veterans Affairs of Kingman.
"Today and every day, let's honor our veterans not only with words, but by actions," Kopecky told the students.