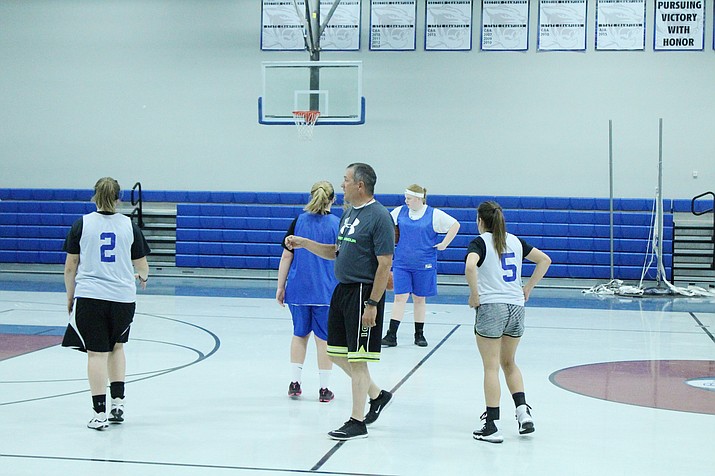 Photo by Shawn Byrne.

Originally Published: November 11, 2016 6 a.m.
KINGMAN – After a hard day's work tilling in the dirt, Garth Steed proceeds to his part-time job on the basketball court.
Steed is now the Kingman Academy girls basketball coach, taking over for David Scroggins, who coached the Lady Tigers the previous 12 years. The new coach moved his family to Kingman from Idaho two years ago after selling his potato farm to come here to be a farm manager.
"When I did his background, everyone spoke highly of him," said KAHS athletic director Michael Perrine. "We have his kids at our school, and he has amazing kids. He has that calm, cool demeanor and is respectful toward the girls."
Steed has put in his time coaching basketball. He was an assistant coach for three years at River Raft High School in Malta, Idaho. He coached junior high boys basketball for three years, and most recently led the River Raft girls program from 2010-2015. The Lady Trojans went to the state playoffs twice under his guidance, including a trip to the Class 1A Division I state semifinals.
Under Steed, expect the Lady Tigers to get up and down the floor.
"We like the up tempo game with a focus on defense as our No. 1 priority," Steed said. "We'll mix up different defenses and put a lot of pressure on them."
Up tempo basketball is the style of play throughout Arizona and conditioning is paramount to be successful.
"We want to work harder than the other team. That's the biggest thing," Steed said. "Basically, going after it and working as a team. I want to see a bunch of girls having a good time."
The Lady Tigers have had a difficult time adjusting to life in the AIA since they joined in the 2013-2014 season. Kingman Academy has gone 11-48 in the new league after being successful in the old Charter Athletic Association (now Canyon). Success has many different looks.
"I want them (the girls) to look back and say they've done their best and have come a long way," the new coach said. "I want them to look back and see a lot of improvement and the joy of working hard."
Kingman Academy opens the season hosting Kingman at 7 p.m. Nov. 21.
More like this story