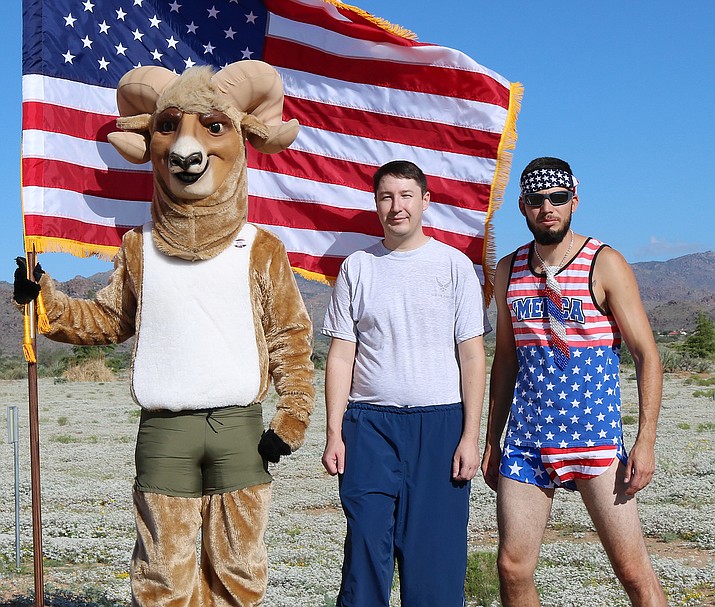 Photo by Aaron Ricca.

Originally Published: November 11, 2016 6 a.m.
KINGMAN – Keep an eye out for hikers if you're driving up and down Hualapai Mountain Road Saturday morning.
Members of the Mohave Community College Veterans Student Club have planned the Veterans 22 for 22 Military Veterans Hike to foster camaraderie among veterans in the community and to raise awareness of PTSD and the 22 estimated daily veteran suicides with a Silkies Hike.
Silkies are generally considered patriotic outfits and/or backpacks with 22 kilograms (about 50 pounds) of gear. They are encouraged but not required. Reyes Lerma, president of the MCC Veterans Student Club said all that is required is a great attitude and half a day of your time.
"I'm doing this to bring veterans together," said Lerma. "We all have that dark sense of humor and we have a sense of well-being when we're with each other."
The former U.S. Marine deployed to both Iraq and Afghanistan as an infantryman. Lerma has lived in Kingman for little more than a year and studies criminal law at MCC.
He was inspired by the veterans group Irreverent Warriors in San Diego, which started hikes to bring veterans together using humor and camaraderie to heal the
mental wounds of war, reduce PTSD and prevent veteran suicide.
The first leg of the 22 kilometer (13.6 mile) hike is for veterans only and starts 10 a.m., at the Hualapai Mountain Park Ranger Station. The second 2.2 kilometer (1.4 mile) leg is open to the public and will go from the Dambar and Steakhouse at 1960 E. Andy Devine Ave., to Locomotive Park downtown at around 2 p.m., Lerma estimates.

There will be volunteers at Locomotive Park starting at 8:30 a.m. to drive anyone interested to the ranger station. They'll be back at 2 p.m. to transport people to the Dambar for the 2.2 kilometer leg.
This is the first Veterans Club hike and Lerma said they'd like it to turn into an annual event.
"We've been planning this since earlier this year," he said. "We know the ins and outs, so next year we can make this better."
He doesn't have a solid head-count on participants yet, but has advertised to veterans in the tri-state area as well as campuses in Tucson, Phoenix, Prescott and Las Vegas.
"We're hoping for a good turnout," he said. He has at least six hikers for the veteran's portion. "Once we open it up from the Dambar, we know there's going to be more people joining us."
Lerma said his girlfriend and kids are joining the final leg of the hike.

"We just want people to join us," he said. "When were all said and done, we can all grab a beer together."
He said House of Hops will be offering discounts with valid proof of military service.
"We'll see how it turns out and start planning next year's hike after words," Lerma said. "The more the merrier."
For more information, contact Reyes Lerma at 760-799-2481 or by email at Rlerma7554@students.mohave.edu.