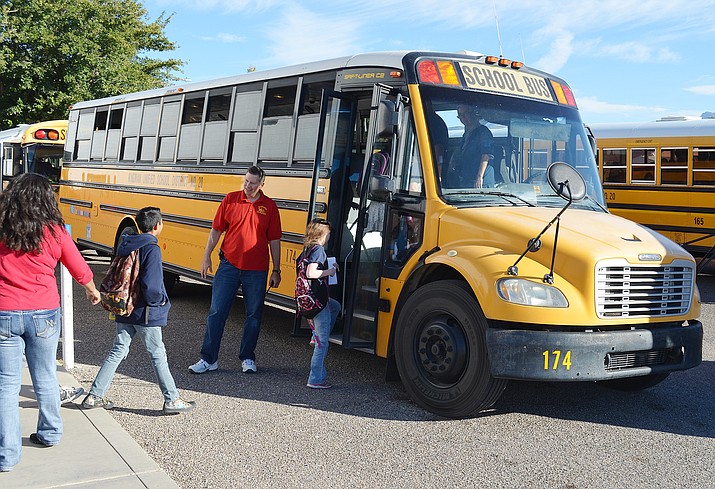 Photo by Aaron Ricca.

Originally Published: November 16, 2016 6:04 a.m.
KINGMAN – Overcrowded busses that riled parents at the beginning of the school year exist no longer.
Parents frantically called Kingman Unified School District phones and blasted complaints of overcrowded buses and child abandonment at bus stops on social media sites. KUSD Superintendent Roger Jacks and Transportation Director Craig Schritter diffused the tension by showing the Kingman Daily Miner video of one of the incidents and explaining district policy.
Both Jacks and Schritter said the infuriating bus situation is a yearly event, but things always get better as the school year progresses. But now, they say, routes couldn't be running smoother.
"Things have improved," Schritter said.
"We're not getting phone calls here at the district office," Jacks added.
Loads and Logistics
Jacks and Schritter reiterated that KUSD has plenty of ground to cover. They work with the individual schools every year to help organize bus routes.
Seventy-five buses transport nearly 6,200 K-12 students daily across 3,300 square miles of Kingman and its rural counterparts. There are 43 regular education routes and 16 special education routes. Each bus can carry up to 84 passengers, three elementary school students per seat or two middle or high school-sized students, but 50 to 60 students is more realistic. KUSD has a goal of seeing the first bus roll out of the parking lot no later than seven minutes after the last bell rings.
Students who attend the elementary schools are bound by attendance zones and those students are assigned a route at the beginning of the school year. Middle and high school routes are a bit more complicated. The two high schools offer different programs that attract students from different parts of town; White Cliffs Middle School and Lee Williams High School each have the Cambridge Program, and Kingman High School has Career and Technical Education. Travel hubs at the high schools and other parts of town ferry students between schools regardless of their residence.

"There are kids that ride from Valle Vista, ride to KHS and swap busses to Lee Williams," Schritter cited as an example.
According to Jacks, Arizona law states there are attendance exceptions. If a school has an opening out of an attendance zone it can try to accommodate the student, but the district has no obligation to provide transportation outside a zone.
Late routes are scheduled to accommodate sports and other activities. Late bus ridership decreases between sports seasons, while general education bus loads increase.
"We try to watch that and make accommodations," Jacks said. He said one activity bus at Hualapai Elementary School leaves at 5:25 p.m., an oddity that might open some eyes.
Distance, Safety, Organization
There is no set minimum distance on bus routes. Chances are that if you live directly across the street from a school, there won't be a bus to pick your child up. However, Jacks said each route is tailored to special factors such as high traffic areas (Stockton Hill Road, Hualapai Mountain Road, Jagerson and Gordon Avenues, Bank Street) and other safety concerns.
"We don't have any situation where a student has to walk more than a mile and a half," Jacks said.
Both men said Hualapai School gets a hefty share of parents dropping their kids off and kids who walk. There are buses that cart kids from the nearby apartment complexes and neighborhoods for safety concerns.
"We don't want (kids) trying to navigate across Hualapai Mountain Road," Schritter said.
A visit to Manzanita Elementary School Thursday revealed a highly organized process where teachers led groups of students to their assigned bus. There was no gaggle or confusion. Jacks said the schools do their best to eliminate any mix-ups early in the school year.
He said it's not unusual to have busy routes at the beginning of the year, but they get whittled down as times improve.
"That's our goal when school starts," Jacks said. "It's a learning curve we go through."
The district also constantly faces a driver shortage. Lucrative paychecks from commercial and charter companies lure away district drivers.
The passing of Proposition 206 – increasing the minimum wage to $12 an hour – is expected to create financial and morale issues at the district.