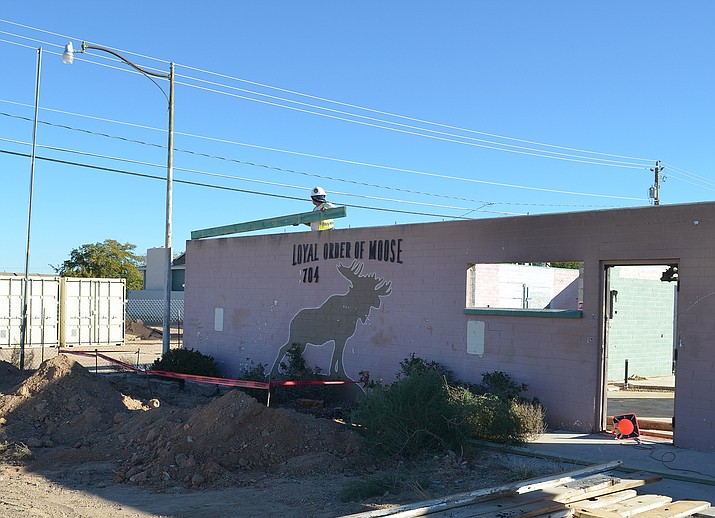 Photo by Aaron Ricca.
Originally Published: November 16, 2016 6 a.m.
KINGMAN – The reconstruction of the Moose Lodge on Monroe Street has begun.
The building was gutted by fire damage in March of 2015. The cause was determined to be an electrical fire and, according to Lodge Administrator Chip Lorion, fueled by newly stocked potato chips in the bar.

"The fire department said that's the best accelerant in the building," he said.
According to Bobby Orr, contract administrator for KC Orr Builders, the crew broke ground on the remodel the first week of November. Plumbing, concrete and electrical crews have already been working to reanimate the since deceased clubhouse.
Both Orr and Lorion confirmed the innards of the new lodge will include an expanded kitchen and handicap-accessible bathrooms. The social quarters (bar) – the largest source of revenue for the non-profit club, next to donations and fundraisers – will swap locations with the lodge hall.
"We just didn't have room for all the people who visited the social quarters," Lorion said. "Now we'll have all the room we need."
Lorion didn't provide a monetary number on the fire damage. He did say the remodel is estimated at $550,000. The Loyal Order of Moose Lodge #1704 charter formed in 1968. Lorion estimated the building to be between 45 and 50 years old.
The Moose Lodge members have been using the old Chaparral Restaurant and Lounge building for their meetings.
"We sustained a loss of membership since the fire," Lorion said. "Now that they're seeing (this) construction, we're getting some back."
Lorion estimates a middle to late February re-opening. It will include a celebration to recognize the community for their help in the remodel effort.