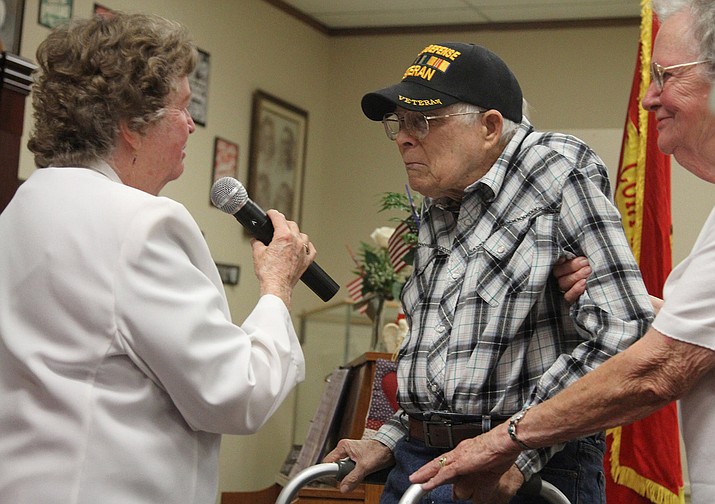 Photo by JC Amberlyn.
Originally Published: November 18, 2016 6 a.m.
Above, an emotional Don Packard speaks with quilter Margie Huber during the Kingman Quilter's Guild annual Quilts for Valor. The Kingman Quilter's Guild held its annual Quilts for Valor earlier this month at the Mohave Museum of History and Arts. Bonner Blackwood and Margie Huber helped put on the event. Guild members voluntarily create quilts to give to veterans, with love, in honor of their service and sacrifices. They "humbly offer these quilts to our brave military personnel in the hope that the quilt will bring physical comfort and a visual reminder of our "Thank you" for all that our veterans have done to protect our nation's freedom." Don Olin and the U.S. Marine Corps League Color Guard Detachment 887 presented the colors. Pat and Andy Campagnuolo provided vocals, Diane Schreiber provided piano accompaniment, and Loren Larson, Captain of the Patriot Guard Riders, spoke at the event. Chaplain Sisto Sandoval provided closing prayer and Sally Bradley took photos. The Kingman Quilter's Guild also wants to thank the Mohave Museum of History and Arts for again hosting the event.