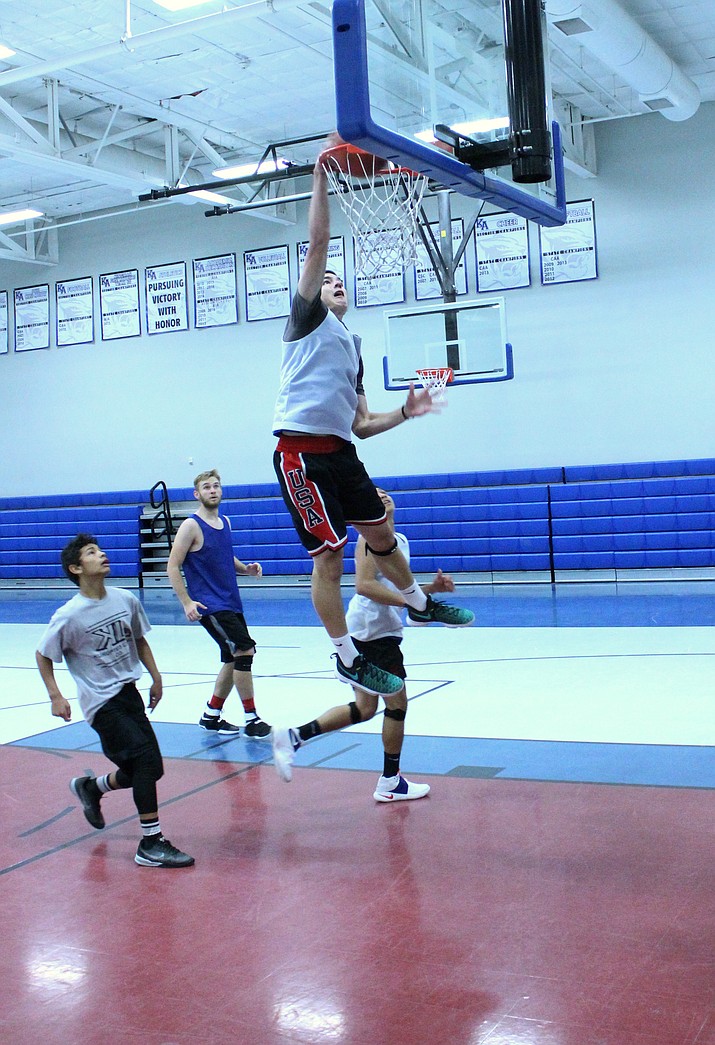 Photo by Shawn Byrne.
Originally Published: November 20, 2016 6 a.m.
KINGMAN – Everyone wants the journey to include a trip to the state championship tournament and to be part of the Arizona Interscholastic Association's February Frenzy. Growth and wonderment are part of the processes for the three local high school teams to end their seasons the way they want.
KINGMAN BULLDOGS
Four of five starters return for the Bulldogs, who went 8-19 last year. Kingman did a lot of learning and now boys basketball coach Nick Juby is back for his second season at the helm. He spent considerable time with the Bulldogs since the end of last season to get them ready for the 2016-2017 season.
Juby has a nine-man rotation to work with, something he didn't have last year.
"Our biggest thing is balance," Juby said. "We've got some bigs, shooters, slashers, and I've got my point guard (Elijah Howery). I can throw out several different lineups, which is huge for us."
Howery is a junior and has been named a captain to go with his duties as the floor general. He was thrown into the fire last season, but he came out a different player.
"I was scared last year. It was my first year of varsity," Howery said. "I've realized this year there is nothing to be scared about. I've been working and last year taught me a lot about myself."
Leading scorers senior Jordan Dupee (13.1 points per game) and senior Anthony Pinto (12.3) return. Dupee, also a captain, is convinced having been together for a whole season is the Bulldogs ticket to the postseason.
"We can go a long way if we work together," Dupee said. "If we play more as a team this year, we can go farther. We're moving the ball better and our chemistry improved a lot over the summer."
Kingman opens the season hosting Kingman Academy at 7 p.m. Monday.
THE ROSTER
Projected Starters
No. Name Pos. Gr. Ht.
0 Jonathan Hunt G,F Sr. 6-0
12 Tobias Bagby F Jr. 6-3
14 Jordan Dupee (C) G,F Sr. 6-3
20 Elijah Howery (C) G Jr. 5-10
24 Anthony Pinto (C) C,F Sr. 6-5
Bench
3 Matthew Ruggles G So. 5-6
11 David Hemenway G So. 5-10
23 Miguel Salinas G Jr. 6-0
32 Anthony Napier C Jr. 6-6
THE REGION
3A Conference, West Region
(2015-2016 records)
KINGMAN (8-19), River Valley (18-11), Northwest Christian (15-11), Wickenburg (13-13), Chino Valley (8-13), Odyssey Institute (3-24)
LEE WILLIAMS VOLS
Call the Vols a big unknown. Lee Williams went 17-14 a year ago and advanced into the second round of the Division IV state tournament. They move up into the 4A Conference this year with a new coach.
Cain Atkinson transfers over from the girls program, where he coached varsity for two seasons. He's looking for improvement throughout the season from both the players and himself.
"I just want them to continue to get better," Atkinson said. "I've been out of the boys game for two years, and I didn't get to watch many boys games."
Lee Williams has to find a way to replace 33.8 points per game with the loss of four seniors from a year ago. Juniors Marco Narvarte (6.6) and Kael Juelfs (2.6) return to the starting lineup.
The Vols averaged more than 45 points per game as a team, but Atkinson is looking for more production than that.
"I don't want to be a team with only 30 points," Atkinson said. "I want to be up tempo, looking to run and getting early transition baskets. If we rebound and don't turn the ball over, we should be OK."
Senior point guard Lawrence Campbell comes out from the shadow of that senior group and moves from the bench into the starting lineup. Campbell averaged 3.4 points per game and was second on the team with 2.1 assists.
"I'm ready now," Campbell said. "I think I can find everyone who gets open. I've been working on my shot and will look to score more."
Lee Williams is on the road to start the season playing at Parker Monday. The Vols host Kingman Academy at 7 p.m. Tuesday.
THE ROSTER
PROJECTED STARTERS
No. Name Pos. Gr.
31 Lawrence Campbell G Sr.
35 Andrew Herrera G So.
43 Parker Taylor G Sr.
52 Kael Juelfs F Jr.
55 Marco Narvarte C/F Jr.
BENCH
15 Cody Bryan G Sr.
21 Chase Williams G Sr.
23 Paul Giglio G Jr.
33 Aaron Santos G So.
41 Russ Cottrell G Sr.
44 Austin Parente C/F Sr.
51 Diego Narvarte C/F So.
53 Esteban Luna G Sr.
THE REGION
4A Conference,
Grand Canyon Region
(2015-2016 records)
LEE WILLIAMS (17-14), Flagstaff (24-6), Mingus (22-8), Bradshaw Mountain (16-8), Mohave (16-10), Prescott (14-11), Coconino (4-20)
KAHS TIGERS
It couldn't have been a whole lot of fun for Kingman Academy playing in the treacherous Division III a season ago. The Tigers finished a respectable 12-14 and the learning absorbed from it by this year's returners should prove monumental with the move down to the 2A Conference.
But that doesn't happen until January.
"It's going to be fun," said second-year KAHS boys basketball coach Brian Devincenzi. "We studied our schedule and we don't play a 2A school until region. I'm extremely excited about this, and I think the kids are extremely excited about this season. They've put in a lot of hard work."
The Tigers are almost guaranteed to improve come January. Former River Valley scoring machine David Larabee has transferred to Kingman Academy after averaging 26.9 ppg for the Dust Devils last year. Larabee has to miss the first half of the season due to the new AIA transfer rules.
Senior Cade Martin brings back 16.5 points per game, and sophomore Tyler Chinyere 7.7.
Kingman Academy opens the season with two road games here in town. The Tigers play at Kingman at 7 p.m. Monday and then at Lee Williams at 7 p.m. Tuesday.
THE ROSTER
PROJECTED STARTERS
No. Name Pos. Gr. Ht.
1 Tyler Chinyere F/C So. 6-3
2 Zach Matthes G Jr. G
20 Cade Martin G/F Sr. 6-4
22 Logan Day G/F Jr. 6-2
54 Kannon Butler F/C Jr. 6-2
BENCH
3 David Larrabee G Sr. 5-9
5 Aden Dunton G So. 5-11
12 Donny Tatham G/F Jr. 5-11
13 Stevie Wusstig G So. 5-9
24 Brad Hecker G Jr. 5-10
30 Will Boyett G So. 5-10
32 Nate Perea G So. 5-4
THE REGION
2A Conference,
West Region
(2015-2016)
KINGMAN ACADEMY (12-14), Tonopah Valley (17-10), Antelope (16-11), MALC (9-12), Trivium Prep (8-11), Parker (7-18)