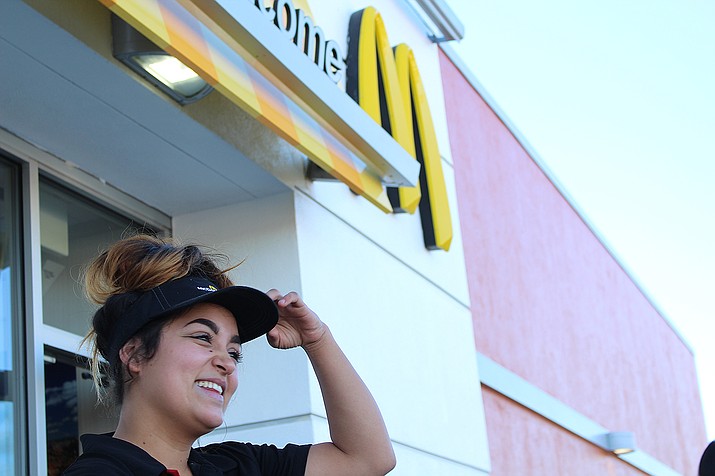 Photo by Hubble Ray Smith.
Originally Published: November 21, 2016 6:03 a.m.
KINGMAN – Minimum wage in Arizona will kick up to $10 an hour next year and $12 an hour by 2020 with the passing of Prop 206 on Nov. 8, and that's going to drive up consumer prices and possibly put people out of business, said Gregg Martin, president and chief executive of the Kingman Chamber of Commerce.
He's heard the pros and cons of raising the minimum wage, but the bottom line is it's going to increase operating expenses, the chamber president and former health care chief operating officer said Friday.
"Especially with thin (profit) margins, you've got to figure out how to accommodate that expense," Martin said. "They're going to have to use less people, have them work less hours or use more automation where they can. They'll have to increase prices and a lot of businesses can't do that."
While the wage increase is good news for some 770,000 Arizona workers who currently make under $10 an hour, it's not so good for business owners such as Kyle Ogden, who owns two KFC restaurants in Kingman and one in Lake Havasu City.
He's already had to close two KFC stores in Blythe and Needles when the recession killed traffic between Los Angeles and Phoenix.
It's not just that wages are going up, but so are payroll taxes and Social Security taxes, Ogden said.
"So it's going to be a significant impact," he said from his Lake Havasu restaurant. "We're looking at a 30 percent labor line increase, so that translates into a 15 percent to 16 percent increase on my menu. I've got to have it in place by the first of the year. If we don't put it in place, it breaks us. Our margins are so narrow already – 3½ to 5 percent – so it's hypersensitive to all these factors."
Ogden said he hasn't raised menu prices at KFC in five years because of the static economy, but this is going to force his hand.
The part of Prop 206 that's escaping attention is the mandated sick pay, he added. Employers must pay 1 hour of sick pay for every 30 hours worked by both full-time and part-time employees, with limits based on the size of the company.
"I don't know if it's a good thing," said Gabby Saenz, an employee at McDonald's in Kingman for about a year. "Everything goes up. I'm excited about it ($10 an hour), but I want to see how it turns out. Our wages increase, but everything goes up, so it doesn't matter."
Saenz said she enjoys the "good vibes" of working at McDonald's, and that her crew is like "Mcfamily."
Hard-working women and men deserve no less than a living wage, said Judy Clinco, founder and chief executive of Catalina In-Home Services in Tucson, who supported Prop 206.
"This initiative empowers my employees with the fairness of their compensation, and their increased capacity to raise healthy families," Clinko said in a statement for Arizonans for Fair Wages and Healthy Families. "It assures that thousands of other businesses provide their employees what they deserve to earn."
Stephanie Vasquez, owner of Fair Trade Café in Phoenix, also came out in favor of Prop 205 on behalf of Arizonans for Fair Wages and Healthy Families.
"As a mother of three, I know what it's like to wake up in the morning to a coughing, sneezing, aching child," Vasquez said. "Life happens. And when it does, parents need to be able to care for their sick child without fear of losing their job. I'm proud to pay all my employees a living wage, and I know many of my fellow small business owners in Arizona feel the same way."
"I understand the living wage, but why does a 16-year-old in high school need a living wage?" Ogden asked. "There's not a business out there not affected by minimum wage. It has to be passed on to the consumer. You can't lose money, or you close the door and file bankruptcy."
Martin of the Kingman Chamber said he hasn't heard much feedback yet from many of his members, other than discussion on how the law is going to be implemented and what its impact will be on business. The wage hike takes effect on Jan. 1, and the paid sick time starts in July.
"By and large, you hear the difficulty it creates is much greater than the benefits," Martin said. "With any issue, you can talk about the pros and cons, but with this, the disadvantages greatly outweigh the pros from a business perspective. It's legislatively mandated and not market-driven and that makes it very difficult for business to handle this."
Related Stories