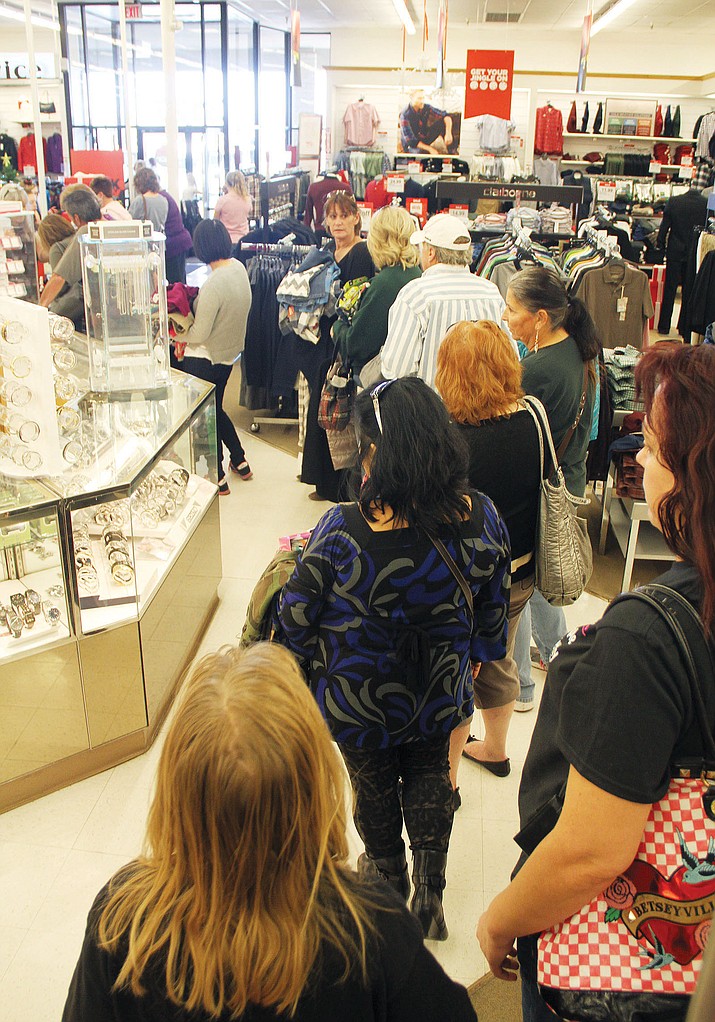 Photo by JC Amberlyn.
Originally Published: November 25, 2016 6:04 a.m.
Forget about camping out for those Black Friday doorbuster deals. Those days are gone.
Big-box retailers are now getting a jump on the lucrative holiday shopping season with Charcoal Thursday, let's call it, and consumers are increasingly shopping online for discounted purchases.
Kmart was open all day on Thanksgiving and Walmart kicked off Black Friday deals at 6 p.m. because some consumers simply can't wait to digest their turkey dinner before stampeding the stores.
JC Penney also opened on Thanksgiving and virtually everything was on sale, generally for 60 percent or more off original prices. Beware, however, that retailers are notorious for using inflated list prices so that sales markdowns can seem like bigger deals than they really are.
An estimated 137.4 million people are planning to shop during Thanksgiving weekend, up from 135.8 million last year, according to a survey from the National Retail Federation.
Holiday spending is expected to increase 3.6 percent to nearly $656 billion, and more than one-third of consumers will exceed their budget.
Chris Wagner, owner of The Gun Shop at 4938 Stockton Hill Road, said the store will have a bunch of Black Friday deals, including the popular Armalite AR-15 rifle for $575, ammunition and accessories.
"What you'll see is a tag on virtually every gun in the store with very few exceptions," Wagner said. "I'm dropping prices 10 percent all the way down to wholesale. We're going to take it all the way through December with our big end-of-the-year bash."
About 21 percent of holiday shoppers planned to shop on Thanksgiving Day,
about the same as last year (22 percent), the NRF survey found. However, Black Friday remains the busiest day of the holiday weekend with 74 percent of consumers planning to shop today.
"Retailers know consumers are spreading out their holiday budgets to shop throughout the season," NRF President and CEO Matthew Shay said. "While there's no doubt of the incredible promotions offered during the weekend, the holiday shopping season is long and consumers will look for and expect great deals down to the very last minute."
Kmart, with a store at 3340 Andy Devine Ave., is advertising Black Friday deals online, including a 10-inch Disney Frozen kids' bicycle or 10-inch Huffy Marvel Spiderman bicycle for $19.99; Barbie Fashionista dolls for $4.99; and Nerf Rebelle Rapid Red Blasters for $4.99.
Walmart's pre-Black Friday deals include an RCA Voyager 7-inch Android 6.0 tablet for $34.99 (list $59.99); GoPro Hero camcorder for $139.99 (list $199.99); Samsung 60-inch TV for $577.99 (list $1,699.99); Keurig K50 coffee maker for $79; Hamilton Beach microwave oven for $35; and PlayStation Pro 1TB gaming console for $399. The store is at 3396 Stockton Hill Road.
Among the best buys at JC Penney (3127 Stockton Hill Road): $8 for a blender, coffeemaker or griddle after $12 rebate (regular price from $50); $10 for Pyrex eight-piece bowl set after $15 rebate (regular price $56); $20 for Farberware 15-piece knife set after $15 rebate (regular price $80); and $30 for Cooks 12-piece cookware set after $20 rebate (regular price $100). It's important to mail in the rebate.
Timing is everything for scoring Black Friday deals, and many consumers are signing up for Twitter feeds and going to websites, such as Amazon's Black Friday 2016 Deals Tracker to find sales. Another source is Dealnews.com.
"Things kick up so big on Black Friday, business would pick up without the sales," Gun Shop owner Wagner said. "We've turned the holiday season into a buying frenzy, so there's no need for a sale. I like to give a little something back to customers. It's fun and it tells the customers we appreciate them."
Of course, if you stay home on Black Friday, or worse yet, if you have to work, don't sweat it.
Sales will continue throughout the weekend, and you've got Cyber Monday coming up.
There's also Green Monday (Dec. 12), Free Shipping Day (Dec. 16) and Super Saturday (Dec. 24) where last-minute shoppers can still find deals.
And don't forget Shop Small Saturday every Saturday through the season