Originally Published: November 27, 2016 6:03 a.m.
KINGMAN – Through a broken heart and broken bones this season, Kingman's Josh White, 9, rebounded and took the USA BMX 9 Expert Race of Champions plate Friday in Tulsa, Okla.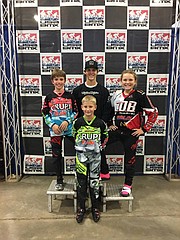 White left 55 competitors in his wake to win the coveted race after finishing in second place the last two years.
Earlier this season, White suffered a broken arm and had to miss the UCI World Championships in Colombia.
White jumped out to an early lead in the championship race from his No. 5 start position. By the time White reached Turn 1, he and Connor Eaton of Valencia, Calif., had separated from the other six riders in the field. Through Straight 2 and Turn 2, White held a slight lead, but Eaton remained on White's pedals. White separated from Eaton on Straight 3 by nearly a bike length as the pair headed into the final Turn 3. White executed Turn 3 flawlessly, going from the low part of the turn into the high area and cruised across the finish line on his Crupi sponsored bike about two lengths ahead of Eaton to claim the championship.
White's brother, Chase, competed in the 10 Expert and reached the quarterfinals. Garrett Newberry reached the 16 Intermediate semifinals, and Samantha Ogborn was a semifinalist in the 11-12 Girls Cruiser class.
The riders rode for the 2016 Grand National championships Saturday and today. Saturday featured the first round and today they'll ride from the second round through the championship races.