Originally Published: November 27, 2016 6:04 a.m.
Get out of the way!
The most common misconception among motorists involved in non-serious collisions, or fender-benders, is that they have to wait for the police to arrive before they move vehicles.
However, state and local policies for both highways and side streets are basically the same: If there isn't serious injury or damage to vehicles and property, get off the road.
Kingman Police traffic officer Eric Urquijo has been with the department for nine years and is usually one of the three motorcycle officers at an accident scene. He says if there's one thing motorists don't understand about accidents, it's that they can and are allowed to get out of traffic after an incident.
"We want people to get out of the flow of traffic," he said. "There's a huge misconception. They don't know they can move."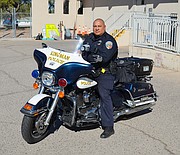 Urquijo said the only time motorists involved in an accident need to stay put is if there's serious bodily injury or if vehicles are too damaged to move. KPD officers have the training and resources to determine what happened in non-serious accidents. Skid marks, vehicle damage, and even minor injuries can paint a picture. Eyewitness accounts can help corroborate events.
Another big misconception about traffic accidents: Unlike in some big cities, there aren't cameras on every corner in Kingman.
Urquijo said people might try to get video from an ATM or fast-food drive through camera, but are disappointed when they find out those cameras have a very limited range and direction – usually aimed at areas where money transactions take place – not tens or hundreds of yards beyond a building. Even parking lot security cameras usually run on a time interval loop for data storage purposes.
"If we get video footage, it's basically to get a license plate number," he said.
Have Your Info Available
Both Urquijo and Farmers Insurance agent Laurie Bauer said the exchange of information and timeliness are paramount.
Urquijo said once a crash occurs, the driver is required to provide a valid driver's license or permit. Also required is the vehicle's registration and proof of insurance. Occupants are requested to provide identification (name, home or mailing address, birthdate and phone number).
Exchanging information between parties isn't necessarily a law enforcement function, but it helps all parties involved later in the investigation and claims process. Drivers can use technology to save time.
"Take a cell phone pic of the driver license, insurance and registration," Urquijo said.
Written or verbal statements of events leading up to the crash will be needed based on the severity of the crash and at the request of the investigating officer.
Calling for assistance (at least right away) isn't always necessary. Reports are required for accidents involving damage at or exceeding $1,000 and injuries. A report will be made regardless of damage should anyone involved in the crash make a request. KPD files a same day report which goes into an electronic database. The reports are available online or at the department's office located at 2730 E. Andy Devine Ave. for a small fee.
"I usually tell people to give us three days," Urquijo said.
There are not always civil or criminal charges filed. Each crash is investigated to determine factors such as driver negligence, inattention or recklessness, environmental or roadway hazards or driver impairment. The on-scene officer's investigation will lead to determining who was at fault. Citations, while at the officer's discretion, are issued to the at-fault driver's actions leading up to the crash.
The insurance agent perspective closely mirrors that of law enforcement. Bauer has been in the insurance business 21 years. A few things have changed, but some never die.
"Always call the police," she said. Filing a report will put the details in stone.
She said stories tend to change when a person leaves an accident scene. Outside influences (friends and employers) can alter an accident victim's account, especiallywhen money and jobs are at stake.
"I don't know if it's intentional or if someone convinces them," Bauer said.
Get witness information. If you can't catch an officer before they leave the scene or if someone contests details later on, you'll have some extra ammo in the claim process.
Bauer said to write down your account of the wreck as soon as possible while it's still fresh in your mind. Outside influences and time might skewer your memory and accurate info helps quicken the claim process.
Always have a current insurance card at the scene. Bauer said cellphone versions are fine, but are no good if the phone is cracked or the battery is dead.
If you don't have your current information, get it from the other driver before leaving the scene, and get a report number from an officer on scene. Deputy Chief Rusty Cooper said each officer is required to carry a business card with his or her name and a line for a case number on the back.
Bauer said insurance companies have different reports filed between the time of the actual accident, filing a claim, and insurance settlement. A police report is a key part of that process. The longer you wait to file, the longer it takes the insurance company to get the ball rolling.

"It's more difficult if you don't have a police report," Bauer said.
"Taking cash at the accident scene is also a bad idea," she added. The money might pay for vehicular damage, but not medical costs or collateral defects discovered after the incident.
Quick Clearance
Urquijo urges motorists to practice Quick Clearance. According to the Arizona Department of Transportation and Arizona Department of Public Safety, state law requires drivers involved in a crash that doesn't involve major damage or injuries to get their vehicles off the road as soon as safely possible. It's safer for drivers involved in the crash, fellow motorists and emergency responders. It also provides a safer environment to inspect your car for damage.