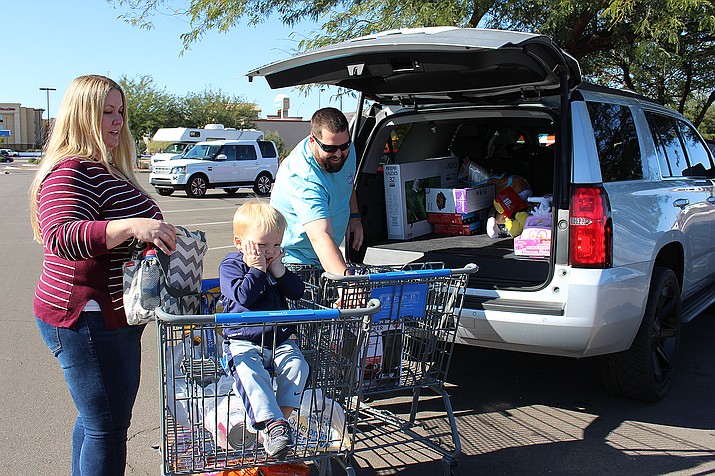 Photo by Hubble Ray Smith.
Originally Published: November 28, 2016 6:03 a.m.
KINGMAN – Denise Goodmiller agrees that Thanksgiving Day should be spent with family, not driving around town on a shopping spree, but that's just what her family wanted to do.
So shortly after the clock struck 6 p.m. Thursday, Goodmiller went to Walmart to buy allergy pills and see what the buzz was all about.
"It was packed, but they did a good job," she said on Black Friday during a return trip to the store when things had died down a little. "It was well organized and the employees knew where everything was. I bought a couple things, some clothes for my grandkid."
An estimated 137.4 million Americans were expected to shop over Thanksgiving weekend, up from 135.8 million last year, with an average holiday shopping budget of $935, according to the National Retail Federation.
Customers were lined up at 7 a.m. Friday for sales at MattressLand & Furniture, store co-owner Joey Merrigan said. Or maybe it was for the free coffee and doughnuts. Either way, it paid off.
"It's the biggest sales day of the year," Merrigan said. "We had doorbusters everywhere. We had memory foam pillows for $4.99. We lose money on those pillows. It's just to get people in here and get them familiar with our store so they'll remember us when they go to make a big purchase. It's just the price you pay."
MattressLand & Furniture, which opened last year in the 43,000-square-foot former Ashley Furniture store at 4290 Stockton Hill Road, took 30 percent off purchases early Friday morning, then 20 percent off until 11 a.m. and 10 percent off until closing, with no sales tax all day.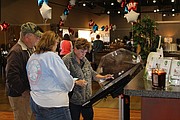 The store held a drawing in which the winning ticketholder receives whatever they purchased that day for free, up to $10,000. Last year, it was the buyer of a $6,700 Tempur-Pedic mattress, Merrigan said.
"It's once a year and it's a chance I'm willing to take," he said. "It gets people excited to buy because they want a ticket for the drawing."
Personal finance website WalletHub surveyed 35 of the largest U.S. retailers to identify those with the biggest discounts in top-selling categories such as appliances, jewelry and toys.
The best Black Friday deals were found at Macy's, which had the highest overall discount rate at 63.4 percent. Big Lots was lowest at 23.5 percent.
The overall average discount for Black Friday is 39 percent. Consumers should aim for that amount or higher to avoid Black Friday traps, said Diana Popa, spokeswoman for WalletHub.
Gentry Nuessle unloaded two shopping carts of merchandise from Walmart into his SUV on Black Friday, including a 32-inch Vizio TV that was discounted $100, a Black & Decker coffee maker on sale for $10 and a Princess Ride-on toy for $20. Then he was heading to Staples to buy a computer.
"I don't know if we have a budget," Nuessle answered when asked how much he planned to spend on Christmas shopping. "It's usually around $1,000. We pull some tags off trees for foster kids when it gets closer to Christmas."
Overall, holiday spending is expected to increase 3.6 percent in 2016 to nearly $656 billion. The sales forecast is based on an economic model using several indicators including consumer credit, disposable personal income and previous monthly retail sales.
"Consumers have seen steady job and income gains throughout the year, resulting in continued confidence and the greater use of credit, which bodes well for more spending throughout the holiday season," National Retail Federation chief economist Jack Kleinhenz said.
"Increased geopolitical uncertainty, the presidential election outcome and unseasonably warm weather are the main issues at play with the greatest potential to shake consumer confidence and impact shopping patterns. However, the economic spending power of the consumer is resilient and it should ever be underestimated," he added.
While the day after Thanksgiving has long been considered the biggest shopping day of the year, it's lost some luster in the last few years as people shied away from lining up in the cold early morning, only to have to fight someone over that last doorbuster wide-screen TV.
That's why retailers are increasingly opening on Thanksgiving Day and more people are shopping for online deals.
RetailNext, a firm that tracks retail shopper traffic, predicts that the biggest shopping day this year in terms of store sales will be Friday, Dec. 23, two days before Christmas.