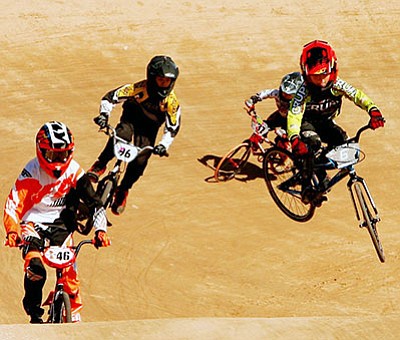 Originally Published: November 30, 2016 6 a.m.
KINGMAN – A proud trio of Kingman BMX riders finished the 2016 Grand National Championships in Tulsa, Okla., riding in the very last race possible for each of them.
Josh White, 9, finished fifth in the country in the 9 Expert national championship. White had a great start in the final and headed into Turn 1 in a close battle for the lead. White ended up in the dirt coming out of the turn and recovered enough to complete the ride and take fifth place.
White won Friday's Race of Champions in the same age group.
Garrett Newberry reached the Main for 16 Intermediate and ended strong with a sixth-place finish.
Samantha Ogborn qualified for her main in 11-12 Girls Cruiser, but crashed in the race.
GIRLS PREP SOCCER
Kingman 3, Lee Williams 3
At KHS, Kingman and Lee Williams battled to a 3-3 tie Monday in the season opener for both teams.
Lee Williams grabbed a 2-0 lead after 18 minutes when Sierra Cobanovich scored her two goals of the match. She also scored the game's first goal at the 15th minute mark.
Kingman scored the next three goals to take a 3-2 lead with the first coming in the 34th minute when Estafani Reyes assisted Rachel Torres on her first of two goals. The Lady Bulldogs tied the match midway through the second half on Ericka Anaya's goal, and Torres then gave Kingman its 3-2 lead with her second goal in the 67th minute.
Lee Williams got it tied at 3-3 just two minutes when Sadie Serrano scored for the Lady Vols.
Two overtime periods of 10 minutes each were played with no scores.
Both teams are in action at 6 p.m. Thursday. Kingman hosts Lake Havasu, and the Lady Vols visit River Valley.
Falcons youth wrestling signups Friday
The Falcons Youth Wrestling Club will take registrations at Carlson Gracie Kingman Brazilian Jiu Jitsu & Kickboxing, 3531 N. Bond St., from 4 to 7 p.m. Friday.
The cost is $30 per child for the entire season that runs from December through April. The fee covers insurance and a T-shirt.
A coach will be on hand to answer questions. Practices are held on Wednesdays and Fridays, and a schedule will be available. Tournaments begin in March.
If this registration time is not accommodating, please contact the Falcons on Facebook.