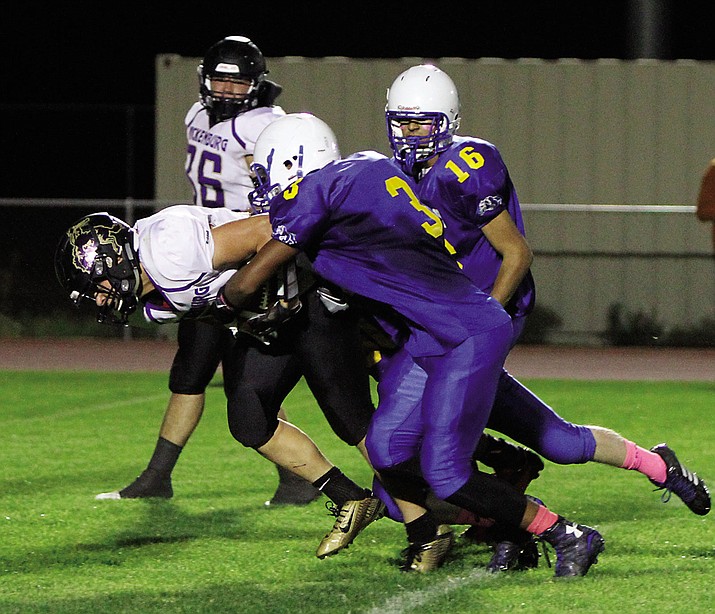 Photo by JC Amberlyn.
Originally Published: October 2, 2016 5:59 a.m.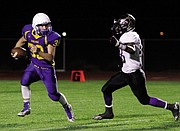 KINGMAN – You had a feeling it was going to be one of those games when Wickenburg running back Riley Schuck ran a draw off the right side, cut back and scampered 47 yards for a touchdown on the first play from scrimmage Friday night.
The Wranglers romped the Kingman Bulldogs 53-6 in a game that was marred by player ejections on both sides and an onside kick with the Wranglers winning comfortably that drew the ire of Kingman coach Cam Wierson.
He screamed across the field at Wickenburg coach Carson Miller, but really, it may have been more out of frustration than anger, as the Bulldogs were buried 47-0 at halftime.
"That was bad," Wierson said after the game.
The Bulldogs fell to 0-6 on the season, 0-1 in the 3A West Region, and have been outscored 268-40. It was their 15th straight loss. Wickenburg remains undefeated at 7-0, 1-0 in region.
The Bulldogs' defense had no solution for Wickenburg's powerful running game, which averages about 440 yards. Wrangler running backs were chewing up big yardage, reeling off three consecutive first-down runs during a first-quarter drive.
Wierson called a time out to instruct his linebackers and safeties to seal the outside edge, and on the next play after the time out, Wranglers quarterback Keilan James swept around left end for a 39-yard touchdown run.
Wickenburg coach Miller said he was happy with the way his kids handled the situation, and they got the win, but they need to learn how to win with the correct attitude.
He felt the referees let some things go early in the game that escalated into personal foul and unsportsmanlike conduct penalties.
"We're a really physical football team, and that makes people angry," Miller said.
While Kingman's defense was left in shambles trying to stop the run, the offense sputtered on numerous occasions, failing to score early in the game when a pass interference call set the Bulldogs up with a first-and-goal situation.
Junior running back Austin Reed took it into the end zone from 6 yards, but the touchdown was called back for a holding penalty, and quarterback Darrell Mitchell threw incomplete on fourth down.
"Three weeks ago we had trouble executing plays in practice against no defense, against an air defense," Wierson said.
"We've been improving every day since I got here, but this football program is in a disease state, and we're still doing chemotherapy."
There were a couple of positive points to take away from the game.
Kingman played Wickenburg to a 6-6 tie in the second half, scoring on a 51-yard touchdown pass from Miguel Salinas to Damon Heidorf with 8:10 left in the game.
The Bulldogs pulled off a perfectly executed fake punt on their first possession and connected on a long pass from Reed to James Carter. And junior quarterback Salinas looked good on a number of passes that went through the hands of his receivers.
But overall, the Wranglers were too big, too strong and too fast for the undermanned Bulldogs.
"We got out weight-roomed again," Wierson said.
The Bulldogs have a great opportunity to win their next two games against Chino Valley and Odyssey Institute, both at home, he said.
Their last win came against Chino Valley, a 15-0 victory to open the 2015 season.