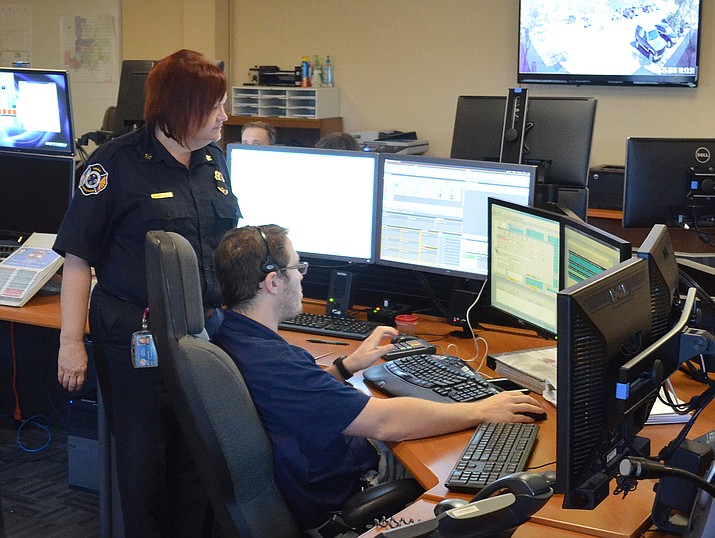 Photo by Aaron Ricca.

Originally Published: October 10, 2016 6:03 a.m.
KINGMAN – The Kingman 911 Communication Center will implement a new medical dispatch protocol this morning. The Medical Priority Dispatch System will enable dispatchers to accurately assess each emergency situation and send the best response possible while safeguarding valuable and limited emergency services resources and increasing safety for both citizens and responders, according to the center.
"This will give responders an idea of what to expect on scene and how best to prepare for patient care," said Communications Administrator Deann MacLeod.
A key benefit of MPDS is a constant stream of crucial and updated on-scene information to field responders en route. The information will better prepare responders to give precise assistance when they arrive on scene.
The dispatch center will ask more questions than callers are used to hearing for a medical call.
Those questions will be tailored to the nature of the emergency. MacLeod described MPDS as over-the-phone medical triage.
"This takes us down to 'what exactly is your medical need,'" she said.
The difference from the current system is that special software can quickly provide a list of scripted questions tailored to an emergency. Right now, dispatchers refer to a paper hard copy of questions that can be time consuming to finger through.
"It makes us more efficient and gives the community a better quality of care," MacLeod said.
Although the system is new to Kingman, it's not new to MacLeod.
She used it as a dispatcher in Weber County, Utah, and said it greatly improved communication consistency between agencies. She expects the same results here.
The Kingman dispatch center handles calls for the Kingman police and fire departments as well as Northern Arizona Consolidated Fire District, and the fire districts of Golden Valley, Lake Mohave Rancho, Pinion Pines and Pine Lake. MacLeod said River Medical ambulance service in Kingman also uses MPDS.
"Now we'll be able to speak the same language," said MacLeod.
The system has been tested internally and all of the Kingman dispatchers have been certified. They are required to recertify every two years.
MacLeod expects some frustration from 911 callers, but wants to ensure residents that the dispatchers are not trying to make things worse.
"Talking to me as a dispatcher does not slow down the medical response," she said. "You'll get care before responders arrive, while they're there and when they leave."

While dispatchers are feeding information to responders, they can also assist callers by providing steps for CPR, telling callers to administer aspirin for heart attack patients or rescue inhalers for breathing problems.
They also can remind callers to put pets out and leave a door open for responders.
"Agencies will be talking while on the way to a scene," she said.
"So the minute they jump off the truck, they're ready."
MacLeod recommends giving dispatchers as many details as possible to increase chances of survival in an emergency.
"The more information you provide, the better responders can handle the situation," she said.
The new 911 system goes live at 9 a.m. today for all agencies, according to MacLeod.