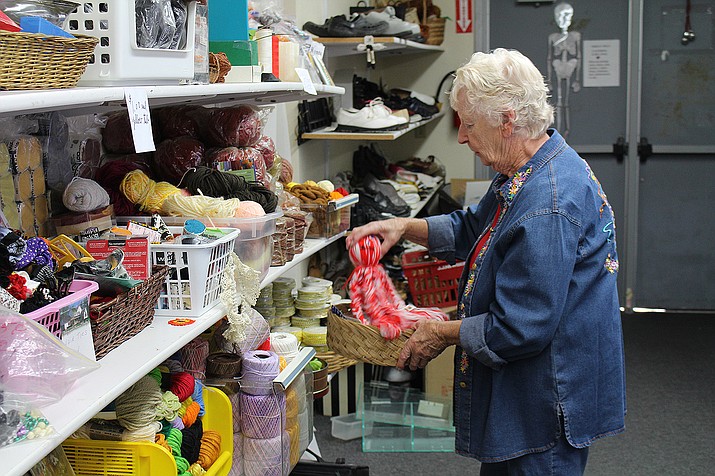 Photo by Bob Leal.
Originally Published: October 11, 2016 6 a.m.
KINGMAN – Grandma's Treasure Thrift Store is joining the fight against cancer with anything pink or pink-shaded half off.
The nonprofit organization, located at 1776 Airway Ave., supports Meals on Wheels in Kingman and Golden Valley and also aids senior programs and helps children with school supplies.
The building sits next to the Kathryn Heidenreich Adult Center and is open Monday-Friday from 8:30 a.m. to 2 p.m.
"We're just volunteers. There are eight of us. We volunteer our time and goodwill," said Carole Bergin, manager of the store and a member of the Senior Council.
In addition to the deals on pink items, Bergin said they have a great ongoing bag promotion on Fridays. Regular prices on children's items are hard to beat. Clothes are 25 cents and shoes and jackets are $1.
"Every time a child comes in they get to walk away with something free," said Bergin.
The kids usually are given a stuffed toy or a book, "something they are really enthusiastic about."
Grandma's is seeking donations from the public. You can arrive at the store and knock on the back door.
After donating, those wishing tax receipts can get them.
"We'd be happy to come and get items if it's too much for you to bring in," said Bergin.
The store's number is (928) 757-8150 or (928) 681-5881. They will also come to pick up leftovers from a garage sale.
"We're always looking for new volunteers," said Bergin.
"We have a number of people who come in for two hours a week."
Bergin said Grandma's has made friends in the community and is always looking to meet new ones.
"We'd love to get to know you. Come on in."