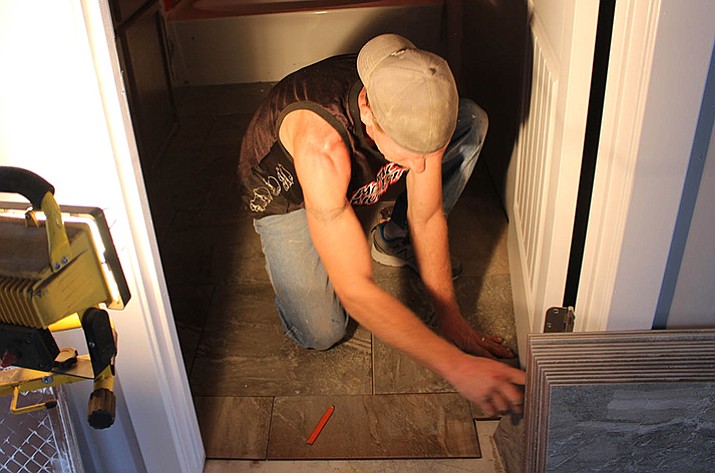 Photo by Bob Leal.
Originally Published: October 13, 2016 6:04 a.m.
KINGMAN – Being jobless can be a very stressful time and can lead to all kinds of pressure nobody wants in their life.
That's where ARIZONA@WORK comes into the picture. The state-funded resource has a variety of classes and tools to allow those who are unemployed to find a job.
"ARIZONA@WORK is probably Kingman's best hidden resource, I believe," said the animated Cyndi Stewart, a job center technician.
"What we do here is take members of the community who have been displaced, either they've lost their jobs or they've been laid off or perhaps they are needing to get back in the workforce, which happens all the time.
"We teach them how to go about getting a job here in Kingman. How to talk to an employer, how to dress, how to present themselves, how to do interviews," said Stewart.
Those helped range from students who drop out of school to veterans to retired folks and everybody in between. The local office, located at 700 W. Beale St., sees 6,000 to 7,000 clients a year.
Computers, a copier, printer and a telephone are all free to use so job hunters can contact employers. A computer with a screen that has large print for those whose eyesight might not be up to par is available, as is a computer the user can talk to if they are not used to keyboarding.
"I wish that 10 years ago when I moved to Kingman that somebody would have told me about this great resource here," said Stewart.
Workshops available
ARIZONA@WORK has a program called Seven Steps to Readiness. The Orientation familiarizes clients with the services offered, while the Job Skills Match identifies and defines transferable skills.
Career Exploration shows clients how to find job openings which match skills and interests, and Resume Building demonstrates how to build an effective resume.
What Employers Want is followed by Job Applications and finally Interviewing With Confidence, where job seekers can learn what to say, what not to say, what to wear and how to make a great first impression.
There's also a job club, where the unemployed can get multiple perspectives from other job seekers; computer help, to learn tasks that are needed in a job search such as email, formatting a resume, using a zip drive, saving and naming files and searching the internet.
For students who drop out of school, ARIZONA@WORK has the Coyote Program, which teaches life and jobs skills so youth can be productive young adults. General Education Development preparation classes are accessible.
Job seeking has changed
Sometimes people walk in and say they want to get a resume together and go out and meet prospective employers in person and shake their hand, said Mary Mendola, ARIZONA@WORK manager. They want to speak with "a real person."
Mendola said she has to explain to them that the job-seeking game has changed – a lot. Job seekers don't usually meet employers face-to-face after knocking on the door. It has more to with searching the internet and sending a resume and cover letter over email.
Eric Wadley, 42, and Kasey Long, 39, were in classes Tuesday in preparation of landing a job. Long said he is going to get into trucking, while Wadley said his goal was to be a counselor for at-risk youth.
The 10-person staff at ARIZONA@WORK doesn't just have job seekers as clients. Employers are clients, too, and many call in asking for qualified candidates.
ARIZONA@WORK tests prospective employees for companies with the goal of getting people hired, said Stewart. "It takes a lot of pressure off the employers."
The center is not only a resource for job hunters and employers. Stewart says they try to break down any barrier getting in the way of someone being employable.
If someone needs information, such as Section 8 housing, or help with a utility bill or food, Stewart said they can usually steer them in the right direction.
Smart job hunting
ARIZONA@WORK works in conjunction with AZ Job Connection, a web-based job-matching and labor market information system. AZ Job Connection provides job seekers, employers, and training providers with easy-to-use tools that support a wide range of activities.
As a service of the public workforce system, it is completely free. You only need a computer and internet access to do the following:
• Create and post a resume or job order.
• Determine whether you're eligible for state- or federally-funded workforce programs.
• Search for the ideal job or job candidate.
• Search for the ideal training or service provider.
• Research labor market information.
There are more than 54,000 job openings on the site, www.arizonajobconnection.gov., and more than 19,000 resumes have been posted by job seekers.
Fields in high demand, according to Stewart and Mendola, are trucking and medical.

The phone number at the ARIZONA@WORK Kingman office is 928-753-0723.