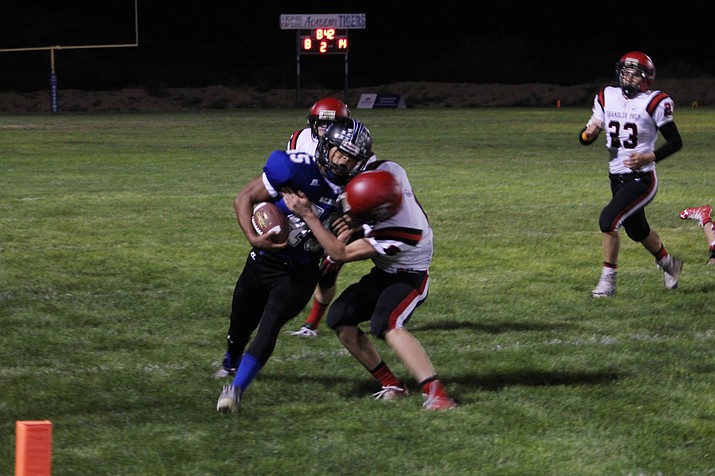 Photo by Shawn Byrne.

Originally Published: October 14, 2016 6:04 a.m.
KINGMAN – After busting then-No. 12 Chandler Prep last week at Southside Park 46-20, No. 23 Kingman Academy needs another high-profile win when the Tigers host No. 13 Tonopah Valley (5-2, 3-0 2A Central ) at 6 p.m. Saturday at Southside Park.
Kingman Academy (4-3, 2-1) trails Tonopah by one game for second place in the Central Region, but more importantly the Tigers and The Phoenix each want to finish in the top 16 and in the playoffs.
It won't be a surprise if this game comes down to the wire. Most of the numbers are on the Academy's side, but Tonopah plays good football, shown by its 30-28 win over Parker last week.
The Tigers average more than 350 yards per game on offense. Senior running back Jordan McDowell-Seybert has 908 yards on 97 carries for a 9.4 yards per carry average. He's found the end zone 14 times and has eight 2-point conversions.
Clayton Holloway has rushed for 577 yards on 73 carries at a clip of 7.9 yards per carry. He has seven touchdowns.
When the Tigers throw, junior quarterback Kekoa Makaiwi-Stroup has completed 51 percent of his passes, going 42-for-81. He's thrown for 746 yards with five TDs and three interceptions.
Makaiwi-Stroup's favorite target has become freshman Hayven Potter now that the Tigers have lost Nate Carter for the season. Potter has 14 catches for 305 yards and three TDs.
Tonopah's defense yields 17 points per game, but the Academy's offense scores 31.
The Phoenix puts up 275 yards per game offensively, 180 on the ground and about 95 through the air. Junior quarterback Chris Davis hasn't thrown an interception this season and has nine TDs. When Tonopah gets close to the end zone, expect the ball to go to Laron Major (No. 1). He has 16 catches, seven for touchdowns.
Kingman Academy surrenders about 14 points per game, and Tonopah scores approximately 24.5 points per game. McDowell-Seybert leads the Tigers with 119 tackles, Trevor Lowry has 47, and Khaleel El-Awik has 46.
Odyssey at Kingman
This is the last home game for the Bulldogs when they host Odyssey (2-5, 0-2 3A West) at 7 p.m. today at KHS. Nothing is ever a given in high school sports and the games need to be played, but this is most likely Kingman's (0-7, 0-2) last chance to get a notch in the win column with games against No. 11 Northwest Christian and No. 14 River Valley on the road to wrap up the season.
Kingman comes in having suffered a 35-14 loss to Chino Valley last week. The Bulldogs had five turnovers, which was the biggest reason for the loss.
Odyssey was victimized by River Valley, 70-0. The Minotaur will find the going easier tonight, but the Bulldogs have Senior Night and the intense desire to snap its 16-game losing streak to fire them up.
Lee Williams at Bradshaw Mountain
If the Volunteers want to upset No. 12 Bradshaw Mountain (5-2, 3-0 4A Grand Canyon) in Prescott Valley tonight, everything is going to have to come together at the same time.
Lee Williams (3-4, 1-3) needs to get the early jump on the Bears and keep on scoring. Bradshaw averages 30 points per game, and the Bears put up 55 in their win over Coconino last week.
The Volunteers will be dependent upon its defense to keep them in the game. Most importantly, when the Bears deliver a blow to Lee Williams, the Vols need to be resilient and fight back.
More like this story