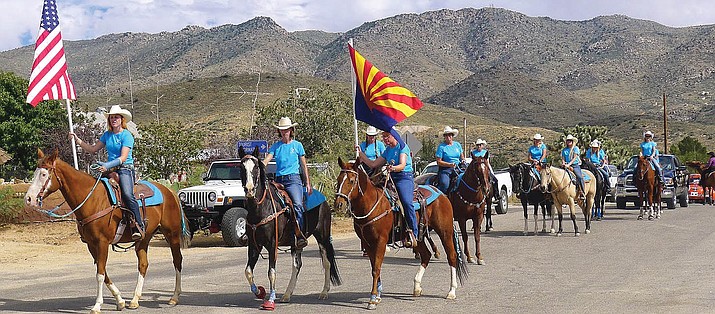 Originally Published: October 14, 2016 6:01 a.m.
CHLORIDE – Clear the street and duck for cover.
There's going to be a gunfight, but not a real gunfight – that's dangerous – as the people in this mining ghost town celebrate their history with Old Miner's Day on Saturday.
The Frontiersman gunfighter troupe will show how the West was really won when they take to the streets at 11 a.m.
The family fun continues at "high noon" with the Old Miner's Day parade down Tennessee Avenue, starting with the Chloride VFW Post 2190 Color Guard.
Sharron Giddings is grand marshal of the parade. Other participants include Miss Mohave County Fair, equestrian riders, floats, animals, classic and antique cars, old fire engines and gunfighters.
Late sign-ups for the parade will be taken until 11 a.m. at the Chloride Town Hall on Payroll Avenue.
Following the parade will be live entertainment and music, gold-panning demonstrations, vendors and games. Parade awards will be presented at 3 p.m.
A second gunfight takes place at 1 p.m. at Cyanide Springs as the High Desert Drifters re-enact some fast-action shootouts.
Chloride is considered the oldest silver mining town in Arizona and this annual event honors the hardrock miners who set up camp in the 1860s looking for gold and silver and them thar hills.
History buffs can check out the Jim Fritz Museum, the old jail on Merrimac Avenue, the bank vault and gas station on Tennessee Avenue and the old train station.
For more information, call Natalie at 512-731-5448 or check out Chloride's Special Events Facebook page.