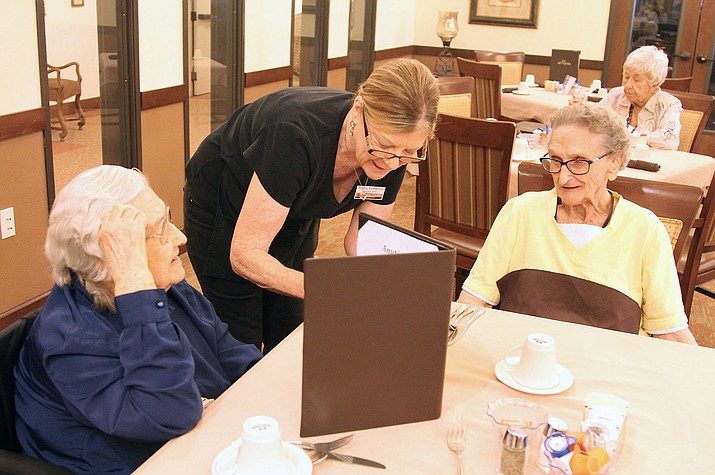 Photo by JC Amberlyn.
Originally Published: October 16, 2016 6 a.m.
KINGMAN – This month marks a very special date for the 84 residents and nearly 50 employees at White Cliffs Senior Living. That's because the Assisted Living and Memory Care community opened its doors two years ago, on October 20, 2014.
"I've spent the past two years getting to see first-hand what a relief we bring to families who are struggling to find help for their mom, dad, grandma or grandpa," said White Cliffs Executive Director Rebecca Ratliff. "I consider myself very lucky."
"My fondest memory as executive director was when a gentleman came in, worried that he could not afford assisted living," Ratliff said. "He was living in an RV and had nowhere to go, no family to help him. We worked with him to find solutions, to fit his budget, to give him a place of his own. Now he lives here, with us, as part of our White Cliffs family, and we couldn't be happier to have him."
White Cliffs has helped many families since opening its doors in 2014, and will celebrate by throwing a Two Year Anniversary Party, which is free and open to the public.

The celebration, which will be held from 4 p.m. to 7 p.m. Thursday, will feature live entertainment by K. Brick. Wine, cheese, and hors d'oeuvres will be served.
"To watch someone walk through our front doors nervous and walk back out feeling confident that we're going to take good care of them or the people they love… that's a good feeling," said Ratliff.
"That alone is something to celebrate."