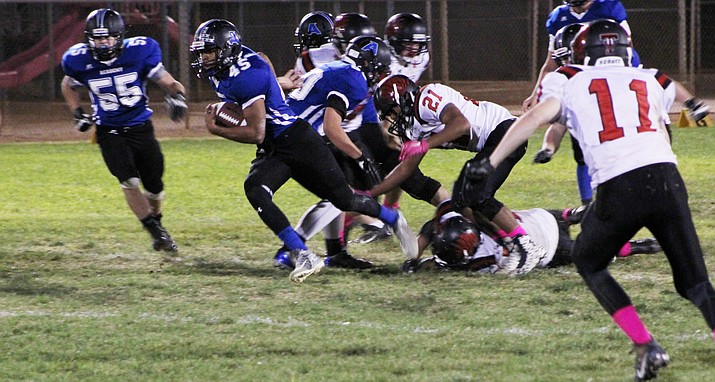 Photo by Shawn Byrne.

Originally Published: October 17, 2016 6:01 a.m.
KINGMAN – Tonopah Valley was resolved to stop Kingman Academy's inside running game. The Tigers were more resolved to keep doing so and rushed for 312 yards en route to their key 2A Central Region win at Southside Park Saturday, 32-20.
"This group has really come together this year through the adversity they've faced with losing players," said KAHS football coach Dan Stroup. "We're pretty resilient and are coming together at the right time."
No. 23 Kingman Academy improved to 5-3 overall and 3-1 in the 2A Central. No. 13 Tonopah dropped to 5-3 and 3-1.
The Tigers have put themselves into position to win the region championship. Kingman Academy plays No. 10 Paradise Honors (7-1, 4-0), essentially for the title, at 7 p.m. Saturday at Odyssey Institute in Buckeye.
It wasn't easy for Kingman Academy to get there. Tonopah scored on its first two possessions for a 14-6 lead and it looked as if The Phoenix would just be marching up and down the field all night long.
Tonopah scored its first touchdown after an 11-play drive, and the second came in the second quarter on a 39-yard pass play right after Tiger backup quarterback Kannon Butler was intercepted.
Kingman Academy's Jordan McDowell-Seybert had put the Tigers on the board with a 3-yard run with time running out in the first quarter. McDowell-Seybert rushed for 235 yards on 20 carries, including runs of 71 and 47 yards. He scored three TDs and one 2-point conversion.
"It's all in our team's effort," McDowell-Seybert said, who now has 1,143 yards and 17 TDs on the season. "That's all I have to say. We wanted it more tonight. We protected our house, went for it and got it."
Kingman Academy trailed at the half, 14-6, but the Tigers defense kept Tonopah in its place after that. The Phoenix would not find the end zone again until there was 5:15 left in the game and they still trailed, 24-20.
Senior defensive end Dallyn Chapman was second on the team with seven tackles. He thought The Phoenix was effective early on because the Tigers were too pumped.
"I felt like I was over-pursuing and I just needed to calm down," Chapman said. "I was just getting a little excited. I started taking a few more steps to read a little more."
McDowell-Seybert led the defense with 13 tackles, two sacks, a caused fumble and one recovered fumble. Trevor Lowry and freshman Ryan Hurley each had six tackles.
Kingman Academy took control of the game immediately at the start of the second half. The Tigers kicked off and recovered an onside kick. Three plays later, senior running back Clayton Holloway outran the Tonopah defense for a 37-yard touchdown run. The two-point conversion failed and the Tigers still trailed, 14-12.
Twice in the third quarter Tonopah kept the Tigers out of the end zone despite getting inside the 10-yard line. That issue was solved in the fourth when Kingman Academy put up three touchdowns.
The Tigers finally grabbed the lead with 11:50 left in the game when Butler's screen pass to Holloway went for 13 yards and an 18-14 lead.
Butler was 4-for-10 with the TD pass to Holloway and three interceptions, all in the first half. Holloway rushed for 77 yards with a touchdown run and touchdown reception. Defensively, Holloway had two interceptions.
McDowell-Seybert's last two touchdown runs showed that the Tigers had worn down Tonopah. He exploded for a 71-yard TD run with 10:05 left in the fourth, and a 37-yard TD run, and added his 2-point conversion, which finally sealed the deal with 1:38 left in the game.
"We got our guys fired up that second half and just took it over," McDowell-Seybert said. "Like we should have done in the first half."
More like this story