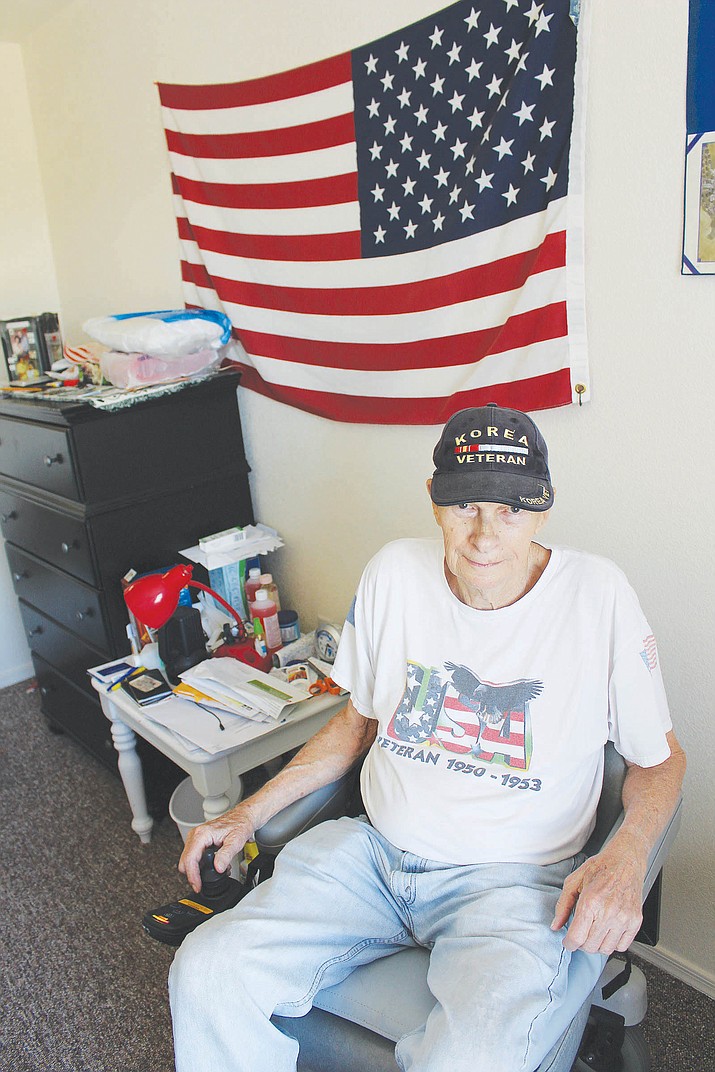 Photo by Bob Leal.
Originally Published: October 18, 2016 6:04 a.m.
KINGMAN – Korean War veteran Louis Shannon of Kingman is mighty thankful to community members after they helped him obtain a battery-powered wheelchair after his old one broke down.
St. Vincent de Paul purchased a wheelchair for him, and Solo of America discounted the new Hoveround from $800 to $400.
It didn't come with batteries, so Knights of Columbus stepped in and purchased two batteries for $125. Then the civic group installed them and dropped off the wheelchair to Shannon's home.
"I belong to Knights of Columbus. I've been with them for eight years here," said an appreciative Shannon, and 21 years all together.
"I thought it was really great that they could do that for me," said Shannon, 87.
He said Knights of Columbus member Juan Izaguirre was extremely helpful.
Life hasn't always been easy for the veteran.
He has lived in his car, one stint lasted six years, another four years and his latest one year, he said.
That's where Heidi Dell of the local Veterans Affairs office stepped in – and continues to step in – on Shannon's behalf.
The VA has helped with some of Shannon's housing expenses.
"She's very good about doing things to help you out. She'll help out veterans who need help. I'd be living in my car.
That's where I was," said Shannon, about Dell.
"She's a great lady. She moves very quickly. She gets everything done quickly.
Anytime I need her I just call her and she'll talk to me," Shannon said.
Although arthritis is messing with his hands and his legs don't work like they used to (he can walk, but slowly with the use of a cane), Shannon's mental capacity is still strong.
And when Shannon needs to go somewhere, volunteer extraordinaire/friend Charles Freteluco steps up to the plate. Freteluco, a retired boiler fireman at Northern Arizona University, drives Shannon on errands and helps him out with various things.
"We met at Walmart," said Shannon, "like everybody does."