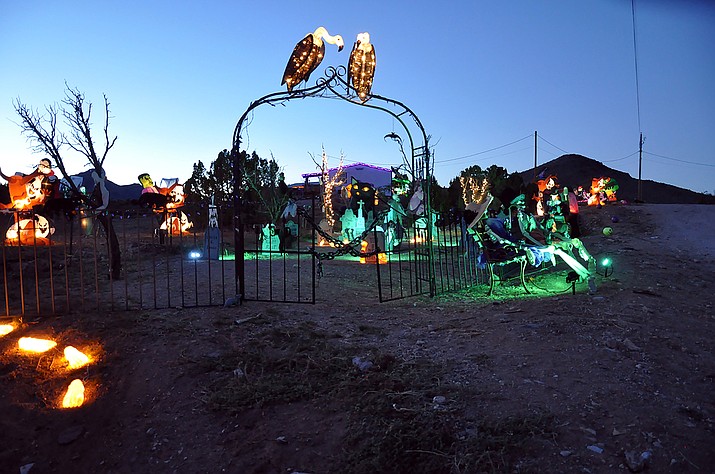 Photo by Butch Meriwether.

Originally Published: October 21, 2016 6:03 a.m.
There are witches, a clown giraffe, skeletons, a cemetery and Halloween display lights in Golden Valley. Homemade tombstones and lighted, music-synced dead trees are just some of the details that "bring to life" the Halloween spirit of more than 30 blowups and other creepy things Chris Marie and Butch Meriwether have put together for everyone's enjoyment. Here's how to drive past their home at 2225 S. Dome Rd. in Golden Valley: Turn south on Egar Road (Mile Marker 17) from Highway 68 and drive south for 4 and a half miles. Turn right on Tapeats Drive (if you arrive at Shinarump Drive at the end of S. Egar Road, you went a half mile too far). Head west on Tapeats for about one half mile and you can't miss the display at the corner of Tapeats and Dome. Chris Marie says the display will be up each night for about six hours after sundown and she plans on keeping the display up until Nov. 1. Chris Marie said her home/display is a safe place to bring children on Halloween night to get some candy. Don't forget that if you do decide to visit their Halloween display, it isn't mandatory, but we would appreciate it if you would bring a bag of dog or cat food for the no-kill domestic animal shelter and sanctuary For The Luv of Paws or a new unwrapped toy to be turned over to the Marine Corps League Detachment #887 and the Marines who will hand out toys this year to disadvantaged children at their Christmas toy giveaway.
More like this story