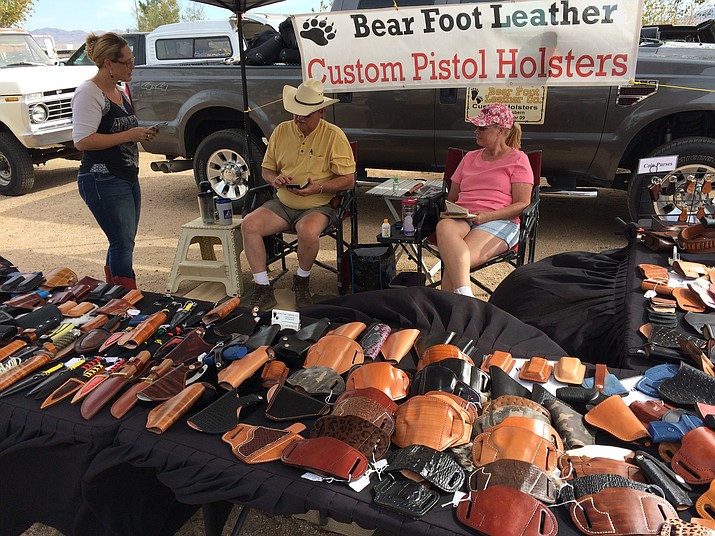 Photo by Hubble Ray Smith.
Originally Published: October 26, 2016 6:03 a.m.
KINGMAN – For many folks living on the edge of poverty in Birdland and Butler, the Route 66 Swap Meet is their weekend commerce center, a place where they can supplement whatever survival income they have by selling odds and ends.
It's also akin to a community center for a subculture of people who are not mainstream business owners. They can socialize and exchange ideas about what's going on in the world. Most of them are Hillary bashers.
These are unique characters, like 81-year-old Howard Lawrence, a retired mason who's been selling pheasants and quail at the swap meet, along with their eggs, for 15 years. He also sells fig trees.
"Little bit of everything," Lawrence said as he puttered around the 2½-acre swap meet grounds on his quad one Sunday afternoon. "I'm trying to do Indian pottery now. I sold one for $50. I'm just starting."
The vendors who regularly set up shop at the corner of Route 66 and Thompson Avenue are keeping a little slice of Americana alive in Kingman.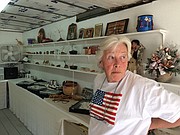 Swap meets – also called flea markets – are the perfect arena for people who like to barter a good deal on used merchandise, second-hand clothing, tools, toys, crafts and specialties.
And the topper: There are no taxes to collect. That suits both buyers and sellers.
"So many things are governed," said Joyce Mugford, who's been selling her artwork at the swap meet for 18 years. "Cash isn't what it used to be. Here, you can go home with a bargain and not feel like you're under the thumb of the government. I like swap meets because they're probably the last stronghold of the American economy."
Breaking even
Ron McJunkin bought the Route 66 Swap Meet in 1995 at the urging of his mother, Doris, a real estate agent. He was working for United Airlines in Los Angeles at the time, and had been investing in real estate since he was 18.
The land, which includes a 3-acre parking lot, was listed for $60,000, but carried a $29,000 lien from the IRS, Doris explained. They bought the land at auction, and Doris personally went to the IRS office in Phoenix to fight the agency over the lien and eventually won.
Running a swap meet is not a high-profit business.
"It's more difficult now because of so many more restrictions with the government," Doris said. "It's getting harder with all the rules."
Vendors pay as little as $5 for a 20-foot-by-20-foot spot on Friday and Sunday at the swap meet, $10 on Saturday, and some pay upwards of $140 a month for permanent shed structures with electricity and water.
On a busy Saturday, about 80 of the 100 spaces will be filled, Ron McJunkin said. On this particular Sunday, he was collecting rent from about 40 vendors.
"We're very influenced by the season," McJunkin said between phone calls and meeting with vendors. "October to January is good, January and February it takes a break, and then it picks up till the end of June. Summertime hits and it slows down. We still have vendors, but it's not comfortable. We're down 30 percent in the offseason."
With property taxes, insurance and utilities, plus other operating costs, McJunkin calculated his business expenses at $556 a week.
"My goal here is to break even," he said. "If I make a little more, great. I've got 16 homes that I rent for income."
McJunkin built an 800-square-foot park with a picnic table and trees and children's play area within the swap meet because there's no other park in that area of town, he said.
He plans to further improve the grounds with 37 flag poles and wooden fencing along Route 66.
Keep it simple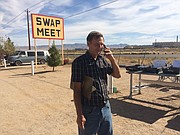 McJunkin said he wants to keep a "Mayberry RFD-Andy Griffith" attitude at the swap meet. Everybody just kicks back, has fun and there's no trouble.
"There are so few businesses out here, but it does have its own identity," McJunkin said. "It's alternative commerce. These are people who have a business mind, but don't want to go into the business expense of a brick and mortar store.
"You've got retired people out here, churches, politicians come out, homeless people who acquire things at Goodwill or ARC and come out on weekends and sell. It's a large community of people."
McJunkin doesn't charge rent for nonprofit organizations trying to raise money, or hardship cases like a young woman whose dog, Alvin, was run over by a pizza delivery driver on Beverly Avenue and required over $1,000 in veterinary care.
Something for everyone
Dorothy Bunge sells handcrafted dream catchers, decorative trees made of wiring and Viking weaving, out of an enclosed shed with electricity and water and roll-up doors. Her husband, Fred, does rock cutting and polishing.
"It's just fun," she said. "We make next to nothing, but I enjoy the nice people here and small-town folks. They're trying to make ends meet for what they can pick out here for what they need at home."
Next to her is Lou Lomerson and his collection of rocks, most of which he finds at local mines. Turquoise has been harder to come across since the Duval mine closed in December 2014, he noted.
"I love it. It's all Mother Nature's art, not manmade. It's 250 million years old. I've got dinosaur bones and dinosaur eggs," said Lomerson, a member of the Mohave Gem Club.
Jim and Sue Osbern specialize in custom leather holsters and knife sheaths. They travel around the region attending swap meets in Prescott, Flagstaff, Tombstone, and Utah.
Mugford, the artist, said she gets customers stopping through from Czech Republic, Thailand, China, Germany and other countries, and her desert landscape paintings are popular sellers for around $100.
"They want a deal with two or three paintings because they know they won't be back in a while. Everywhere else in the world, they don't have the desert, so they love it. World travelers love Western artists," she said.
Cole Tindell and Linda Habben recently moved back to Kingman from Colorado, and were strolling the swap meet looking for deals and meeting people. Some china plates caught Habben's eye.
Swap meets will always have a following if they have the right stuff, Habben said.
"It all depends if they can get a good deal," she said. "A lot of people can't afford new stuff. Sometimes you can get what you need and find it here."
Route 66 Swap Meet is open 7 a.m. to 5 p.m. Friday through Sunday during the winter, and admission is free. There's a snack bar offering a breakfast dish, coffee, cold drinks, hamburgers and pulled pork sandwiches.