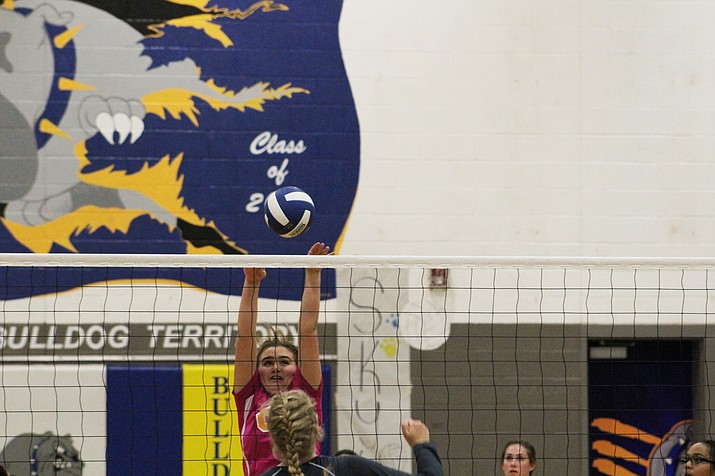 Photo by Shawn Byrne.

Originally Published: October 30, 2016 6:03 a.m.
KINGMAN – It took all season, but they finally did it.
The Kingman High School Lady Bulldogs put a notch in the win column when they got past River Valley in the last match of the season Thursday at KHS, 22-25, 25-23, 26-24, 16-25, 16-14.
"It feels wonderful," said first-year KHS volleyball coach Molly Creagh. "I'm glad we were able to end the season with a win. I think it's a great motivator for off-season training for next year."
Kingman (1-17, 1-9 3A West) and River Valley (1-17, 1-9 3A West) had a back-and-forth battle over the first three sets, which by the end the Lady Bulldogs led two sets to one.
Kingman let off the gas in the fourth set, perhaps because of relief as it was the first time the Lady Bulldogs led a match 2-1. River Valley grabbed an early lead and maintained it to the finish to force the fifth and final set.
The Dust Devils kept the momentum early in the fifth and moved ahead 3-1. Kingman battled back to tie it at 4-4 and it remained a one-point match until the Lady Bulldogs pushed ahead, 9-7. They extended it to 11-8 and the coveted win was in sight for Kingman. However, River Valley wasn't done yet. They tied it at 12-12 and the Dust Devils even had match point at 14-13.
It was the Lady Bulldogs who proved they were more resilient, as three consecutive Dust Devil errors down the stretch handed the set and match to Kingman.
It was an emotional scene at the conclusion as the stress of desperately wanting a win went away. It was also Senior Night, and the Lady Bulldogs sent twin sisters, Anyssa and Skylar Fuhrmeister, off with a victory.
"The girls were proud that they could give their seniors a great last game," Creagh said. "It finally felt like their hard work paid off for them."
Lee Williams wins
At LWHS, Lee Williams ended its season with a three sets to two win over Cottonwood Mingus Thursday.
The Lady Vols ended the year 9-10 overall, 3-9 in the 4A Conference Grand Canyon Region. Mingus dropped to 4-13 and 3-9.
Academy falls
At KAHS, the Lady Tigers were swept by No. 14 Parker in their season-ending match Thursday, 25-22, 25-14, 25-12.
Parker improved to 14-3 overall and 8-2 in the 2A West. Kingman Academy dipped to 7-11 and 3-7.
More like this story