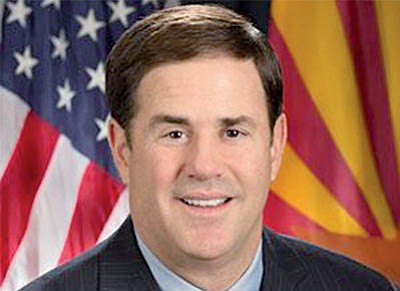 Originally Published: October 31, 2016 6 a.m.
KINGMAN – About 110,000 Arizonans have chosen to purchase the state's Pink Ribbon license plate. In doing so, they've raised a ton of money and helped thousands of women fight breast and cervical cancer.
Gov. Doug Ducey has announced that those drivers who ordered the Pink Ribbon Breast Cancer Awareness specialty license plate have helped raise $2 million for cancer screening and treatment in the past decade.
The Arizona Department of Transportation's Motor Vehicle Division has issued nearly 110,000 Pink Ribbon plates since 2006, when legislation authorizing the plates took effect.
A portion of the funds from the Pink Ribbon plates is allocated for the Arizona Department of Health Services Well Woman HealthCheck program, which helps pay for screening and treatment of breast and cervical cancer for uninsured women in Arizona.
Over the last 10 years, the program has received $1.9 million from the Pink Ribbon program.
"Cancer is a physically, emotionally and financially devastating disease for families," said Ducey. "When drivers in Arizona choose to put one of the Pink Ribbon license plates on their vehicles, they're doing their part to help thousands of women beat breast and cervical cancer, and to ease the burden the diseases have on our families and friends.
"The millions of dollars raised proves once again that Arizona citizens will step up to help others. I commend everyone who has participated in this special program."
In 2015, the program provided screening services to more than 5,500 women. Of those screenings, 81 were diagnosed with breast cancer, two were diagnosed with cervical cancer and 25 had pre-cancerous cervical lesions that were removed.
"Early detection of breast and cervical cancer gives women who are diagnosed with the disease the best chance to recover and live longer, cancer-free lives," said Dr. Cara Christ, ADHS director. "It takes several diagnostic steps to confirm a cancer diagnosis, which can be costly for women who are uninsured.
Thanks in part to the funding from the Pink Ribbon license plate program, we provided 11,984 breast cancer screenings and 7,560 cervical cancer procedures in 2015."
State Transportation Director John Halikowski had this to say: "October is Breast Cancer Awareness Month, which means it's a great time to highlight the Pink Ribbon vehicle plate that has been so successful in raising money and awareness to combat this disease," he said.
"We're proud to see Arizonans respond so enthusiastically to the Pink Ribbon campaign."