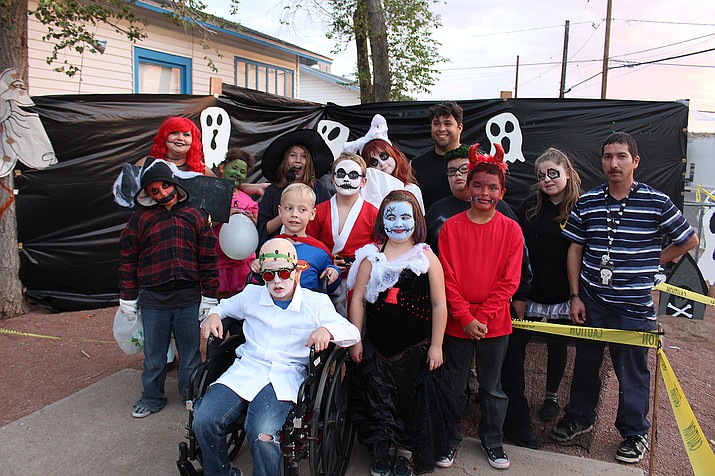 Photo by Bob Leal.
Originally Published: October 31, 2016 5:57 a.m.
KINGMAN – It might be Monday, the scariest day of the week for many people, but it's also Halloween and there's plenty to see and do here in Kingman. You could say there's a frightening amount of things to do. Here's what we have:
Dug Up Manor
This haunted house, at 2025 Northern Ave., has received rave reviews on its Facebook page. It's open tonight from 7 p.m. to 10 p.m. Two of the highlights are a Zombie Rescue ambulance and a hearse, which will no doubt feature zombies lurking around. The cost is $10.
"We will scare you," said owner Cliff Adams. "It's been a great turnout. The people have been great."
Adams said he had a building, so he figured to have some fun with it. He and 35 other actors and actresses have been working hard to entertain those looking for fun.
"We feel ours in unique. We are wheelchair accessible," said Adams. "Come out and have fun, but be prepared to be scared."
Children under 10 must be accompanied by an adult. He said they have had parents carry their babies through, and even a 92-year-old make the tour.
There have been some who entered the first room, got too scared, and exited, according to Adams.
"Everybody's having fun," said Adams. "We hope to be here next year."
One Facebook reviewer wrote:
Dug Up Manor was so much fun. One of the best haunted houses I have ever been to. I would go again and again if I could. I highly recommend going if you like stuff like this. Oh, and I should mention it's the only haunted house I have ever been to that was wheelchair accessible. Thank you guys so much for making that happen for me. Will be back again this year. Hope you guys can make it happen again next year.
Another wrote:
It was great meeting the Adams family over the summer. This hardworking family made this amazing attraction happen in limited time. Took my son and his friends last night. Well worth the wait in line.
Each family goes alone and it's a 20-minute or so walk-through, where the actors focus on only your group. Great props and to our Kingman actors ... great job. Loved seeing the talent in our community. Happy haunting.
Gardens Rehab
Trick-or-treaters can bring joy to the residents at Gardens Rehabilitation and Care Center behind the Safeway at 3131 Western Ave. Candy and a movie will be available.
"We do it every Halloween," said Mindy Taylor, a receptionist at Gardens. "This year's theme will be Alice and Wonderland. (The residents) love it. They love having visitors come through."
The fun runs from 6 p.m. to 8 p.m. It is free.
Boo-tacular
Boomer's Boo-tacular Candy Adventure is on tap at Mohave Community College's student services building and runs from 4 p.m. to 6 p.m.
There will be trick-or-treating, games, prizes and music videos at the Neal Campus, 1971 Jagerson Ave. The MCC Student Activities Council and MCC Foundation co-sponsor this free event.
Boys & Girls Club
The Boys & Girls Club is having a Spook-tacular Maze tonight, and it is expecting around 1,000 kids.
"There will be candy given to kids as they walk through it," said CEO Bill Ward.
The free event is scheduled from 7 p.m. to 9 p.m.
"There are steps involved," said Ward, so strollers and those in wheelchairs will only be able to go through the maze partially.
The address is 301 N. First St.
Martin Swanty
The Chrysler Jeep Dodge dealership awaits trick-or-treaters with candy provided by generous people in the community.
The goodies will be placed in the back of cars for this free event at 2640 E. Andy Devine Ave. from 5 p.m. to 8 p.m.
Halloween Bash
The Route 66 Cruisers Car Club will hold its annual Halloween Bash and car show in downtown from 5 p.m. to 8 p.m. It takes place on Beale Street between Fourth and Fifth streets.
The event is a safe and fun place to trick-or-treat, made possible by generous donations from the community. All children must be accompanied by an adult.
Pumpkin Patrol
Kingman Police Department provides extra neighborhood patrols on Halloween.
Special patrol cars can be identified by pumpkins and other Halloween decorations attached to the vehicle.
Pumpkin Patrol is compiled of officers, Police Explorer's Post 47 and volunteers who hand out bags of candy to foster a more trusting relationship with the community. The additional eyes and ears on the street help to ensure the safety of trick-or-treaters and curtail some of the mischief associated with Halloween night.
Daily Miner reporter Hubble Ray Smith contributed to this story.