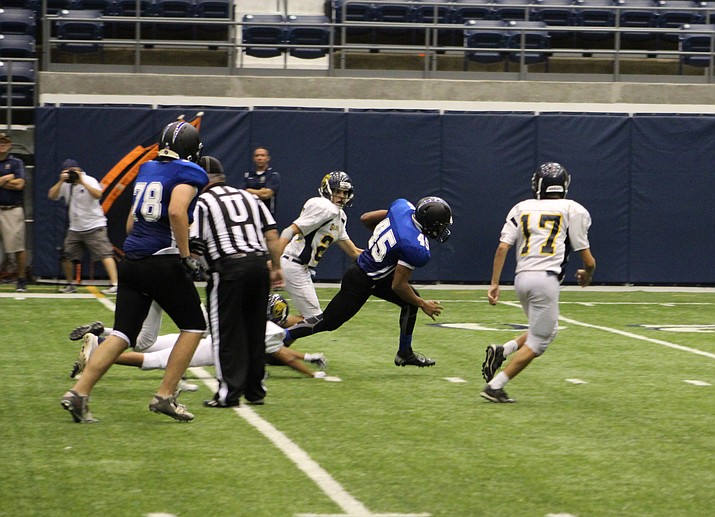 Photo by Shawn Byrne.

Originally Published: September 2, 2016 6:01 a.m.
KINGMAN – After letting one get away last week, the Kingman Academy Tigers walk onto the field in the stadium at Kingman High School at 7 p.m. today driven to get their first win of the season.
Mistakes galore allowed Bourgade Catholic to mount a fourth quarter comeback and beat the Tigers a week ago, 28-27. It was a hard loss to stomach, and Kingman Academy needs to put it behind them.
"We moved on all together," said KAHS football coach Dan Stroup. "The game will tell us if we got over the first game letdown. We've had excellent practices this week. They're focused with what they want to do and what they need to improve on."
Kingman Academy's run game will have to be effective for the Tigers to get to .500 at 1-1. Last week, the Tigers rushed for 335 yards, 212 by Jordan McDowell-Seybert and 122 from Clayton Holloway, and another performance like that should put the Tigers in a desired position.
"We need ball control," Stroup said. "That's our theme this year, and we think offensively we can control the game."
McDowell-Seybert believes the Tigers only need to be themselves.
"We just have to stick to what we're good at," the senior running back/linebacker said. "Put our nose to the ground and go up that middle."
Kingman's 4-4 and 4-3 defense with a rover gives Kingman Academy a different look than they had with Bourgade.
"There's more guys in the box," McDowell-Seybert said. "The rover makes some of our plays difficult with them switching gaps. We just have to stay on top of that."
When the Bulldogs have the ball, Kingman Academy's defense has to deal with the read option. Bourgade was more apt to run the ball right at the Tigers.
"The quarterback can either keep the ball or give it to the running back," said Academy defensive back Trevor Lowry, who had 10 tackles against the Golden Eagles. "We've got to watch the quarterback at all times and make sure who has the ball. I need to shut down those shorter passes in the flat."
One thing Stroup is emphasizing is that the Bulldogs of this year are not like the Bulldogs of the past two previous seasons.
"Coach Wierson has them working hard," the coach said. "Their kids are running around and excited. I hope the community and the fans understand they are seeing a much better product by far."
The Tigers only had one win last year, 49-14 over the Bulldogs, and have playoff expectations this year. They're chomping at the bit.
"Our group is hungry," Stroup said. "One win last year and then lose that one last week; it's time for us to cash in."