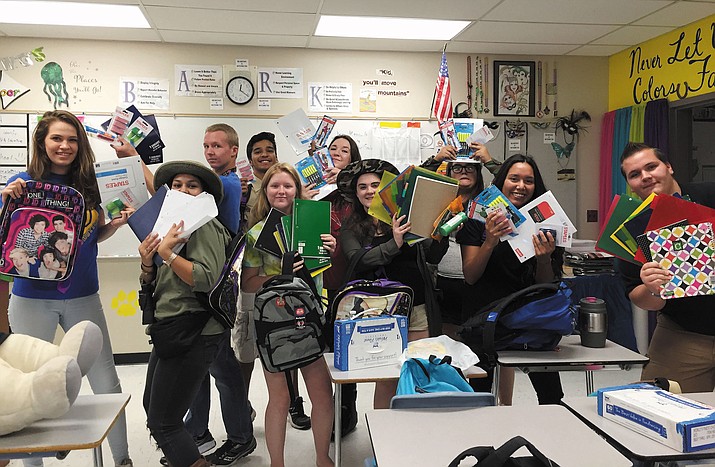 Photo by Aaron Ricca.

Originally Published: September 4, 2016 5:59 a.m.
KINGMAN – A Louisiana native at Kingman High School is reaching out to flood victims back home.
Thirteen-year KHS English teacher and student council adviser Jennifer Jackson was keeping her eye on the news and social media last month as her old neighborhoods near Lafayette and Baton Rouge were inundated by massive rainstorms.

"I went to Youngsville Middle School," she said of the partially submerged Lafayette suburb where she grew up.
The flooding – which has been called the worst U.S. disaster since Hurricane Sandy in 2012 – was so bad, the Louisiana National Guard was called in to help rescue residents. At least 13 people were killed and thousands left homeless.
When the storms started Aug. 11, Kingman High School was in its third week of the school year. Jackson had seen enough flood damage images – mostly posted on Facebook by friends back home – and couldn't sit back while thousands of children and teachers were left without schools or supplies. She showed the photos to KHS student council.
"We decided, let's help them out," she said.
She sent a mass email to principals at Kingman Unified School District and Kingman Academy of Learning schools to gather all the help she could.
The schools went for it. Employing KHS student council, school spirit and athletics, she's since filled at least a half-classroom full of backpacks full of age-appropriate school supplies such as pens, notebooks, calculators and crayons. She's even prepared a few boxes of dry erase markers and teacher supplies.
Jackson was working for KHS when Hurricane Katrina hit in 2005 and helped raise more than $5,000 for relief efforts. Jackson said the Miner's Aug. 23 article on St. John's United Methodist Church gathering cleaning supplies for flood victims kept the charity train rolling.
At least 14 Louisiana public and private elementary, middle and high schools have asked her for help. She's encouraged competition between the schools to boost the supply cache. She's received monetary donations from local businesses, which will go towards gift cards Louisiana teachers can use for school supplies. There will also be a cash prize for the school contributing the most donations.
"Rarely do we work together," she said. "But after getting this rolling, we thought 'why don't we do this more often.'"
KHS student council piggy-backed on the popularity of last week's KHS vs. Lee Williams high school football game and will use tonight's game against Kingman Academy High School to gather more donations. Anyone who brings school supplies will be given a spirit towel from the school of their choice. Fifty towels from each school were given away last week and 100 more will be given away today.
Jackson has received backlash from the community. She said people complained that the donations should go to local schools.
"We started the school year with the stuff we need," she said. "They didn't."
Many flood victims are still without homes or schools. Teachers are using whatever space available to give children some semblance of school.
Jackson is still figuring out how to ship the backpacks and supplies to Louisiana.
She's trying to avoid the costs of using the usual shipping companies and is hoping a local trucking company might fit them into one of its cross-country shipments, hopefully within the next week.
Until then, she keeps getting pics of the damage from her educator friends and family members back home.
"We'll support them," she said. "We'll do what we can for the people who need it."