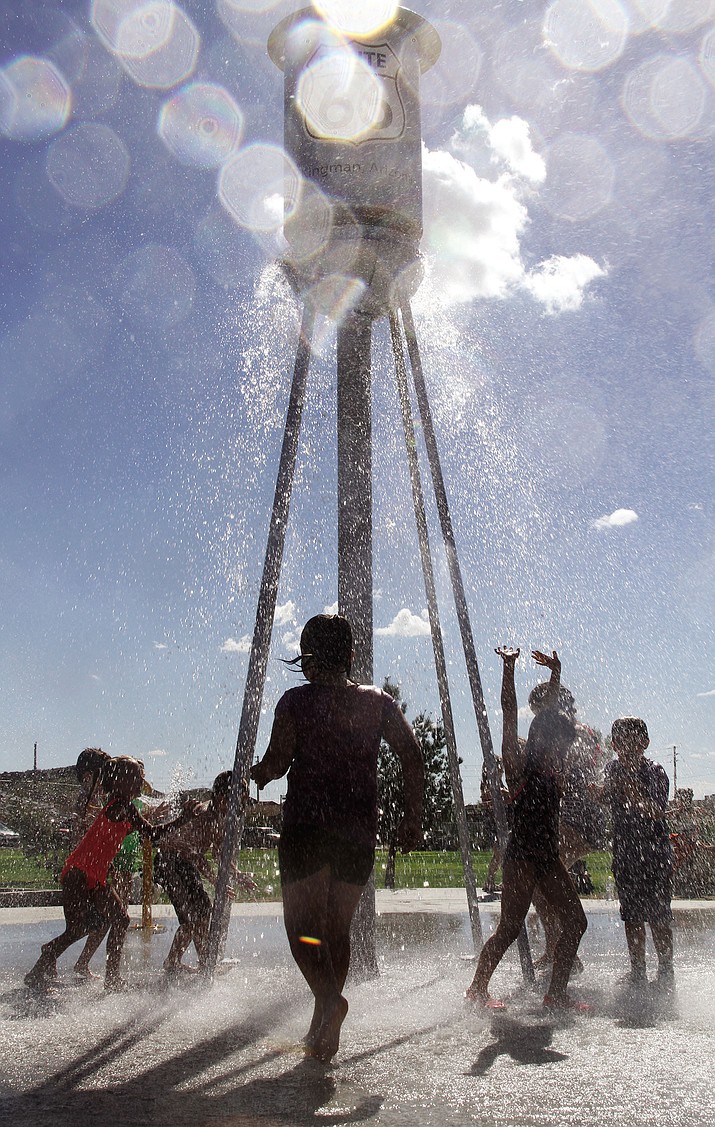 Photo by JC Amberlyn.

Originally Published: September 4, 2016 6 a.m.
KINGMAN – The Splash Pad at Cecil Davis Park is up and running – with kids and water.
After months of buildup, a portion of the public attended an open house ceremony during a ribbon cutting Friday afternoon. Lisa Bruno, past president of the Venture Club and about 20 other club members gave a huge shout-out to donors and the City of Kingman as kids frolicked in the various water features. The Splash Pad will be officially open to the public Saturday.
"I want to say thanks to all the donors and construction crews," Bruno said. "We succeeded in putting enough money and effort together for this project."
Desert Construction, Fripps Mohave Construction and AB Concrete Construction all played pivotal roles in the construction of the pad. Play it Safe Playgrounds was contracted to design and build the park. The company had met with Bruno and city of Kingman Parks and Recreation Department Director Mike Meersman to work out kinks after a deal with a previous company fell through.
"They had issues with the other company and we were reliable," said Play it Safe sales representative Jim Ashe. "We did what we had to do to earn their business."
More than 200 donors, sponsors, Venture Club members and City Councilmembers were at the park with their families. Parks and recreation officials were on hand to test the pad and figure out what improvements need to be made.
"If you think it's busy now, wait until tomorrow," Meersman said of the unexpected attendance of the open house ceremony. Neighborhood kids had gotten a whiff of the pad's opening and made a stop to cool off.
Meersman said there's still work to do. More concrete will be added to the existing pad where water was seeping into the outlying dirt. Benches and shade structures will be installed and a donor monument is still in the works.
A barely noticeable addition to the restroom facilities houses the water pumps and electronic equipment that operate the pad.
"We'll continue to improve on it," Meersman said.
As far as operating hours, the pad will be running 10 a.m. to 6 p.m. – for now.
As far as the fall season goes, Meersman said the city will adjust the schedule according to the weather.
"Next year we'll be more seasonable," he said.
The water features are human operated. There are buttons on the features and when pressed, will run on a four minute cycle.
A nearly 15-foot tall replica Route 66 water tower is sure to drench anyone standing within five feet of the periodic blast of water.
As of Friday, everyone seemed to be enjoying the park.