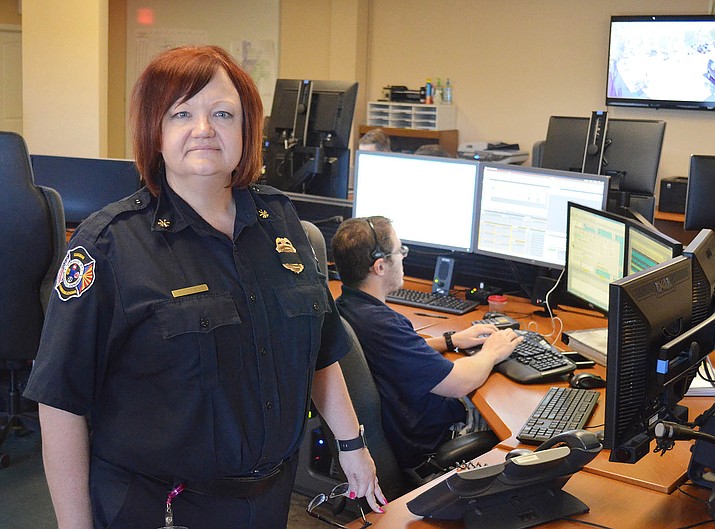 Photo by Aaron Ricca.

Originally Published: September 5, 2016 6:02 a.m.
KINGMAN – 911 dispatchers juggle their fair share of chaos.
Kingman 911 Communication Center Administrator Deann MacLeod said dispatchers are happy to take your calls, but make sure the reason is an emergency.
MacLeod has been a dispatcher for four years. She started working in the records division for the Ogden, Utah, Police Department before making a switch to dispatcher, where she spent two years with a combined first responder agency in Weber County. She's been with the Kingman dispatch for the last two years.
"You provide a service and save people's lives," she said. "I thought it was the best job for me."
She says that's a common theme for many dispatchers.
"This is an opportunity to do that," she said.
The Kingman 911 Communication Center, which falls under Kingman Fire Department operations, dispatches for the Kingman Police Department and six local fire agencies – KFD, Northern Arizona Consolidated Fire District, and the fire districts of Golden Valley, Lake Mohave Ranchos, Pinion Pines, and Pine Lake. The dispatch center relays medical and fire service for the areas outside Kingman city limits, while the Mohave County Sheriff's Office handles the law enforcement portion.
MacLeod wanted the location of the dispatch center to remain undisclosed.
"We don't want people to think they can just walk in here to make a report," she said.
Operation Center and the Dispatcher Life
The center has a 16-person staff; one administrator (MacLeod), four crew leaders and 11 communication specialists – or dispatchers as they're known. The center has a minimum staffing requirement of a three-person day staff and two-person night staff operating at 12-hours on, 12-hours off shifts, with the appropriate staff to accommodate workloads. The crews work in rotating shifts of five days on and two days on and then five days off and two days on.
"That gives us every other weekend off to balance work and personal life," MacLeod said. "It also shares the holiday load to prevent burnout."
At least three computers and numerous monitors produce and track reports, locations of callers and responders and data on possible criminal suspects.
"This is a job with constant multitasking of talking, listening and typing," she said. "It's organized chaos."
Dispatchers work in teams to help each other out – which, over time, enhances their ability to listen to multiple conversations at once. One dispatcher will be simultaneously listening to a caller, typing a report and sending information to another dispatcher who will alert the appropriate responder.
MacLoed mentioned a unique condition called 'dispatchers' ear' – the subconscious ability to hear multiple conversations at once. She said it doesn't always stay at work.
"I can be in a crowded restaurant and hear four different conversations and know exactly what point each conversation is at the whole time," she said.
Burnout can quickly creep up.
"This is a stressful job," she said. "Not everyone can do it. When we find folks who can, we try to give them as many benefits as possible."
The dispatchers do plenty of sitting. There is a constant flow of calls in the center and the crews must be attached to their headsets most of the shift. They eat at their desks and occasionally get outside for a short stroll depending on the call volume.
"We have to watch what's going on to keep the units and the callers safe," she said.
MacLeod said a shots-fired call – whether from a suspect or an officer – is one of the worst calls the center can get.
"We get all hands on deck," she said. "All energy is focused on that incident and everybody does their job."
Dispatchers play the parts of operator, moderator and counselor. They've had to talk people through CPR, deliver babies over the phone and console people after the death of a loved one. The more situations they deal with, the more they become accustomed to the pressure.
"If I've done my job, kept the responders and the callers safe and helped the person on the other end of the line, then there is no stress," MacLoed said.

What's your Emergency?
Call types vary throughout the year, but holidays and weather bring out the worst.
MacLoed said 25 percent of summertime calls are from fires; illegal burns, brush fires, monsoon season lightning strikes and overheated vehicles. Traffic accidents also increase during the monsoon rains, especially on the freeways. The dispatch center assists the Highway Patrol with medical calls.

Domestic calls flood the center as families get together over the holidays, but don't exactly see eye to eye. Suicide threats and attempts also spike. In that event, an officer will be sent to secure the scene while dispatch monitors any escalation.
"It does increase our volume of medical calls," she said.
They also get a fair share of bizarre calls. Interstate crossroads land plenty of transients and panhandlers who beg for money, annoying residents who then call for help. They'll also send for welfare checks on people with psychiatric issues.
"Someone will be yelling to himself or hitting himself in the head or screaming into the sky and we'll send an officer to check," MacLoed said. "It's a little different every time."
Accidental pocket dials have increased as smartphones become more prevalent.
"If someone does pocket dial, don't be ashamed to let 911 dispatchers know it was an accident and that you're okay," she said. "If not, we have to try to call you back."
MacLoed said she gets numerous accidental calls from children playing with old cellphones. Parents forget to take batteries out and even if the phone doesn't have a service provider, a call to 911 will go through if someone hits the emergency icon. Whether it's an accident on a cell phone or land line (responders have to show up), dispatchers have to make sure the person on the other end of the line is safe.
"It saves us a ton of work," she said.
Emergencies, not Information
MacLoed said one of the biggest interruptions at dispatch is people mistaking 911 for 411. Callers ask about anything from weather reports to road conditions. Kingman Police have a non-emergency number for non-life threatening incidents, such as suspicious activity.
"Only call in a life or death emergency," she said. "We've had people asking for the number to Starbucks."
The communication center doesn't discourage calls. They got more than 40 during the July Bulldog Disposal fire. Dispatchers will listen and will let callers know when the situation has been addressed.
"If there are units on the scene, there's no need to call us," she said.
"We truly do care and that's why we do this," she said. "We truly are the first of the first responders."
For life threatening emergencies, dial 911. For non-emergencies, contact the Kingman Police Department at 928-753-2191.