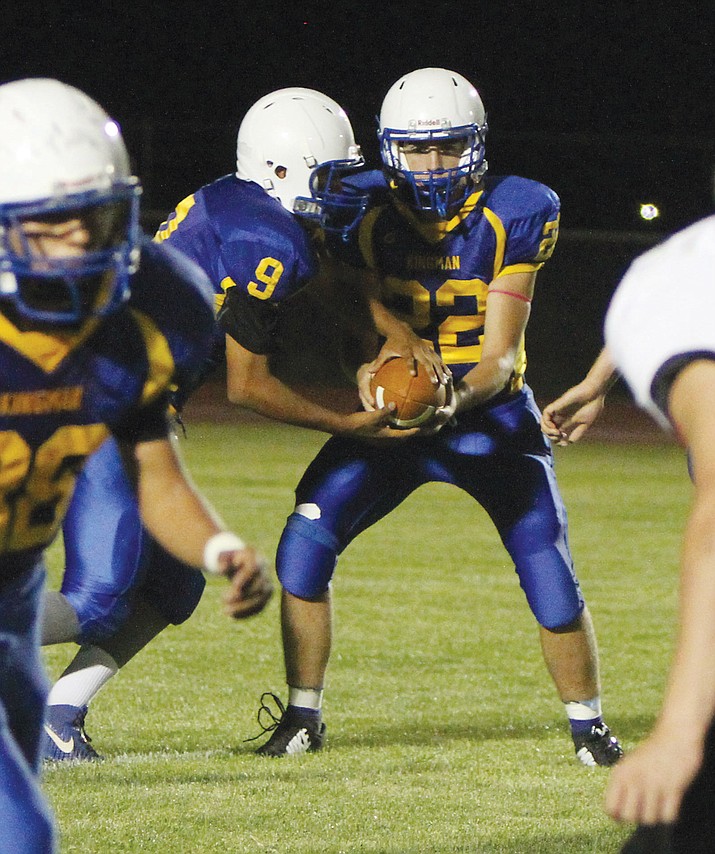 Photo by JC Amberlyn.

Originally Published: September 8, 2016 6:01 a.m.
KINGMAN – The Bulldogs need to figure out how to stop the run. Page is more than willing to test Kingman when the two teams meet up at 7 p.m. Friday in the Sand Devils' home stadium.
The Bulldogs gave up 214 yards rushing in their season opening loss to Lee Williams on Aug. 26, and then Kingman Academy put 218 more on them last week. Page (1-2, 3A North) is averaging more than 270 yards on the ground, and they aren't trying to hide anything.
The Sand Devils run about 45 running plays compared to nine passing plays on average.
"We've realized they're a strong run team, so we'll be working on our reads as linebackers," said senior LB Gage McKowan, who is second on the Bulldogs with 11 tackles. "We're having our defensive line get off the ball quicker because that's what was really going on against KAOL. They were getting off the ball and blowing us away."
Page has an older offensive line filled with juniors and seniors, but the Sand Devils' primary runners are sophomores. Hayden Gracia has had 50 carries for 265 yards, and Kele Meredith has 233 yards on 33 attempts. McKowan believes the Bulldogs are moving in the right direction to get the ball stopped.
"Our coaches are good at watching tape and applying that to our practices," McKowan said. "I definitely feel us changing up in preparing for different teams and we're being prepared well for it."
The defense isn't the only unit struggling for Kingman, the offense is as well. The Bulldogs have only scored six points combined in their two losses and have 305 yards in total offense on the season.
Quarterback Miguel Salinas has completed 9-of-16 passes for 68 yards and two interceptions, but he's also carried the ball the most for the Bulldogs. He's carried the ball 18 times for 38 yards, and he's just waiting for some big plays to pop.
"We just have to get some momentum," the junior said. "Get a couple of big plays and get the buys believing we're going to win. We've got to keep going. If they score a touchdown, we have to keep going and can't give up."