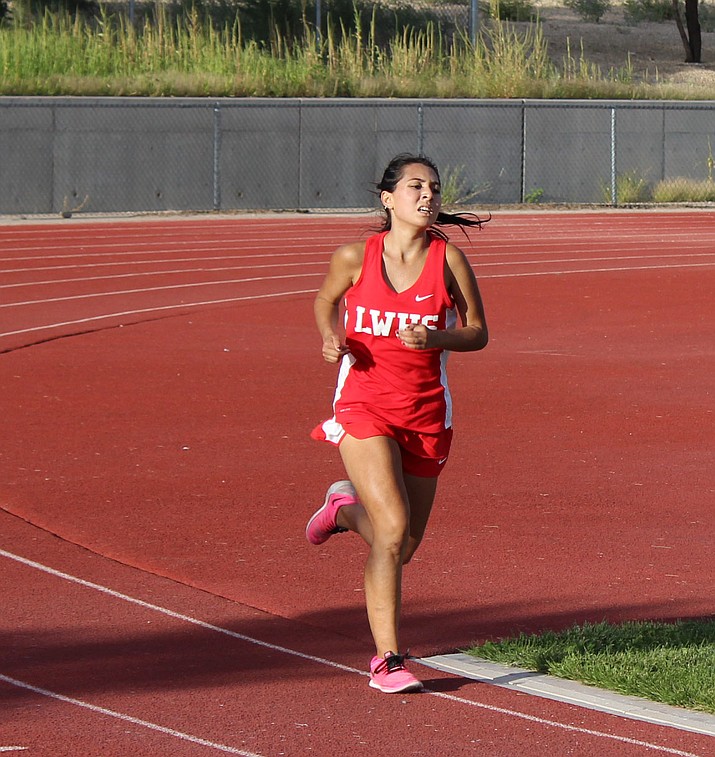 Photo by Shawn Byrne.

Originally Published: September 9, 2016 6 a.m.
KINGMAN – A year after finishing ninth at the Division III state cross country championships but losing its top two runners to graduation, the Lee Williams boys team sped away from the other six teams to begin their season at their own multi Wednesday – and it was as if nothing had changed.
The Vols scored 40 points, 22 ahead of second-place Lake Havasu (62). Mohave (91) was third, Parker (98) fourth, Kingman (114) fifth, Kingman Academy (161) sixth, and River Valley (215) was seventh.
Zach Moyd led the way for Lee Williams, running to first place in 18 minutes, 24 seconds, through downtown Kingman and White Cliffs. Moyd, a senior, had a hard time contemplating winning races when Brendon Allred and Peyton Cardiff were on the squad.
"It feels good," Moyd said. "But it's hard living up to them. They were really good teammates."
Cayden Robles took third for the Vols and Colby Robles was fourth, which helped keep Lee Williams' score down. Carlos Castaneda came in 15th and Drew Cardiff was 17th to round out the Vols scoring.
Kingman scorers: Robert Clark (8), Jonathan Hun (11), Trey Weaver (16), Scotty Winder (30) and Carlos Rodriguez (49).
Kingman Academy scorers: Sam Skankey (7), Grant Stryker (21), Ashton Gatineau (37), Andrew Nicholson (45) and Jacob Appleby (51).
The Lady Vols' victory shows the cross country program under coach Joan Abraham is maturing. Lee Williams' girls didn't have as much of a point spread as the boys did, narrowly beating second-place Lake Havasu by three, 46-49. Kingman (62) finished third, Mohave (74) fourth, River Valley (168) fifth and Kingman Academy (217) sixth.
Alondra Correa led the way for Lee Williams with her fourth-place finish in 23:42. Meah Wilson was seventh, Hallie Powell 10th, Kendra Pease 12th and Karina Lamsus was 13th.
Kingman scorers: Julia Ostberg (6), Holly Tsosie (8), Taylor Tanner (9), Celine Lucero-White (18) and Kyla Silas (21).
Kingman Academy scorers: Serena Parker (25), Tatiana Welch (43), Serena Kregler (46), Raina Zach (51) and Regan Delaney (52).
More like this story