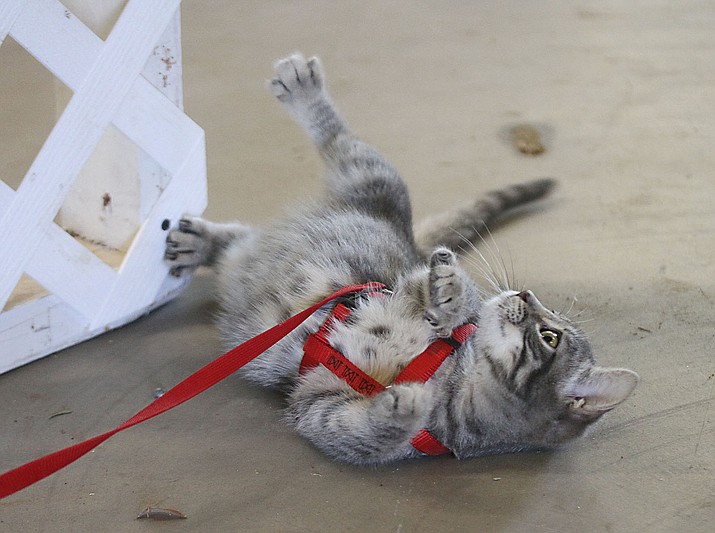 Originally Published: September 12, 2016 7:33 p.m.
Local 4-H members want kids to know that there are ways for them to participate in animal showing and competing without needing to have a big backyard, lots of resources or selling their animal afterwards. "Everyone has a cat or dog. You don't need a big backyard to have fun," commented Heather Bradley at the Mohave County Fairgrounds Friday. She was there with her son Trey Prieto (above), 16, and his cat Manotas, a 4-month old gray tabby he will show at the Mohave County Fair this week. Manotas means "big hands" in Spanish and fits the polydactyl (six-toed) young feline very well. Manotas comes from the local Western Arizona Humane Society shelter and was a foster kitten. His brother Scamp, an orange tabby, is still at the shelter and looking for a home.
Trey explained that the cat show, which will occur at 9 a.m. Friday, consists of two parts. One is the handler's showmanship, "stacking" and knowledge of cats. The second part is confirmation, where the judge looks for the best feline of the bunch. Dr. Taylor Williams from Low Cost will be the judge. There is also a dog show, which is at noon Thursday. For more information on various 4-H activities, call the Mohave County Cooperative Extension office at 928-753-3788. The Mohave County Fair will run Thursday through Sunday at the Fairgrounds, 2600 Fairgrounds Blvd. Hours are 10 a.m. to 10 p.m. Thursday-Saturday and 10 a.m. to 6 p.m. Sunday.