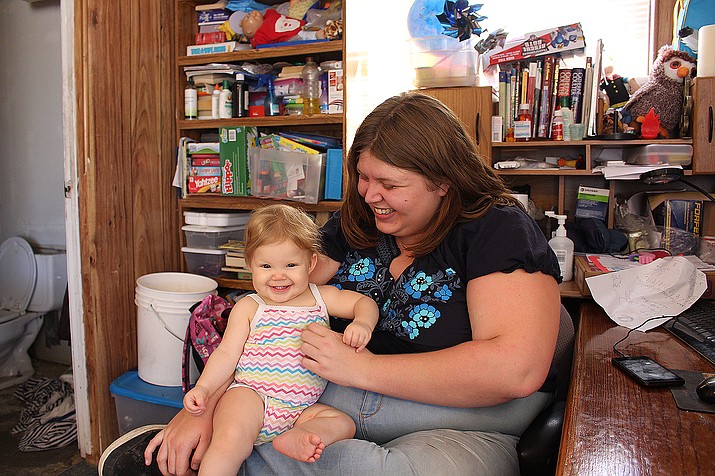 Photo by Bob Leal.
Originally Published: September 14, 2016 6:04 a.m.
KINGMAN – Amber Munsil has a number of health issues she has to face daily, and part of that process in the past was reaching for opiates to stop the pain.
Then opiates took over, and Munsil said she got addicted to them. But she found a way out of it with help from the herb kratom.
"It's a miracle is what it is. If it wasn't for kratom, I wouldn't be here today," said Munsil, 22.
"I became addicted to Oxycontin. It wasn't something I planned on doing but it was managing my pain to the point that I enjoyed it too much," said Munsil, who said she almost died while giving birth to her daughter, Katalyna.
Munsil said kratom is not addicting and that she has never experienced any side effects. She suffers from a leg that has been broken more than once, a titanium knee, and sciatica in her back, among other ailments. She is in constant pain, she said.
But the Drug Enforcement Agency has a different opinion. The DEA recently announced its intention to place the active materials in the kratom plant into Schedule I of the Controlled Substances Act in order to avoid an "imminent hazard to public safety," according to the DEA website.
Mitragynine and 7-hydroxymitragynine are found in kratom, which is a tropical tree indigenous to Thailand, Malaysia, Myanmar, and other areas of Southeast Asia.

Kratom is abused for its ability to produce opioid-like effects and is often marketed as a legal alternative to controlled substances, the DEA says.
"We've gotten a ton of calls," said Melvin Patterson, a staff coordinator at the National DEA Affairs Section. He said doctors, nurses, police and veterans have given their support to kratom.
But the DEA, said Patterson, has to make sure there is proper research done before kratom can be qualified and recommended as a medicine. He said the Federal Drug Administration will have to weigh in on the issue also.
"It's something we want to make sure we get right," said Patterson.
Kratom is banned in Australia, Malaysia, Myanmar and Thailand and in the US in Indiana, Tennessee, Vermont, Wisconsin, Alabama and Arkansas.
"I've personally never had a side effect with kratom. It is not addictive like the DEA is trying to say it is," said Munsil. "I personally think the only reason they are trying to make it a Schedule 1 is because the government is not getting a piece of the action."
She is not alone in her support for kratom.
"I will fight to the end for this. I have my life back. I don't have to take a pill when I get up," said Karen Nelson, 33 of Golden Valley. "I will fight for it. There hasn't been any deaths from kratom."
Nelson said she has problems with one of her kidneys and was taking 20 Percocets a day. "Now I have been completely off them for two years. I wasn't a mom or a daughter (when taking Percocet). I owe my life to kratom," Nelson said.
"We sell a good amount (of kratom)," said owner Adam Friedman of Up in Smoke on Northern Avenue. He said he hasn't heard anything bad about it from customers. Friedman says he has a bad back from a car accident and that kratom worked better than anything else he has tried besides an epidural.
He said there are a number of lawsuits and a petition that has around 120,000 signatures backing kratom. But despite the support, Friedman said he doesn't figure the DEA will take back its plan to make kratom illegal at the end of the month.
"It's really sad what's going on," said Friedman.