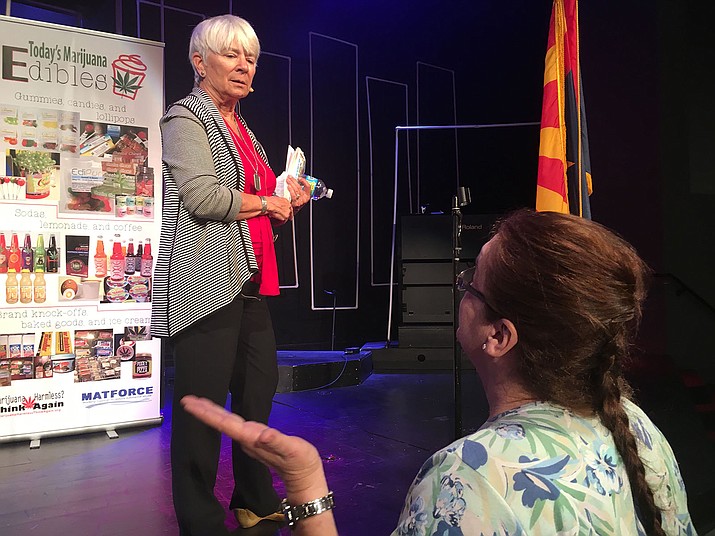 Photo by Hubble Ray Smith.
Originally Published: September 15, 2016 6:02 a.m.
KINGMAN – Nancy Moschcau was a little dismayed at the low turnout for Tuesday night's anti-marijuana forum at Journey Church, where Sally Schindel shared her story of how marijuana addiction drove her 31-year-old son to suicide in 2013.
Schindel, speaking on behalf of Arizonans for Responsible Drug Policy, implored the 20 folks in attendance to go the polls on Nov. 8 and vote against Proposition 205, the Regulation and Taxation of Marijuana Act, which would legalize possession of up to one ounce of marijuana and up to six plants for anyone over age 21.
Moschcau, president of Kingman Republican Women, delayed the event 15 minutes waiting for more people to arrive. Maybe it was the wind, maybe people just don't care, as one audience member said. Maybe they're a bunch of "potheads," another guy chimed in.
Shindel, from Prescott, has spoken against marijuana legalization about 40 times in the last two years, and made a stop in Bullhead City before coming to Kingman.
"People have no clue about the riskiness of the product, in my opinion," she said in a short interview prior to her speech. "They picture a little joint being passed around in the '60s, people getting the giggles and getting the munchies. It may have been harmless in the '60s, but it's morphed into something much more dangerous. It's not the marijuana I knew back in the '70s."
Shindel used a two-hour, power-point presentation to attack marijuana legalization on a number of fronts, debunking assertions that marijuana sales benefit the state with more tax revenue and that marijuana is safer than alcohol.
Money raised from marijuana taxes would go to state schools and public health, under the initiative. Arizona is among five states voting for marijuana legalization. The others are Nevada, California, Maine and Massachussetts.
Shindel started by talking about her son, Andy, who was diagnosed with "severe cannabis use disorder" and committed suicide after a pot-driven psychotic episode.
She showed this quote from his suicide note: "My soul is already dead. Marijuana killed my soul."
"I hear people say there have been zero deaths from marijuana. My son is not a zero," Shindel said. "This issue is not going away. It's here to stay and we need to get a lot smarter about it to protect our children."
Arizona Gov. Doug Ducey blasted the movement to legalize recreational during a recent trip to Washington, D.C. "Make no mistake, this is a battle for the minds and future of our children's lives," he said.
Shindel cited a recent survey showing 49 percent of Arizonan oppose Prop 205 and 43 percent support it, but a poll by Cronkite News released last week showed 50 percent of registered voters in Arizona are in favor of legalizing marijuana for those over age 21, with a margin of error of 3.2 percent.
"If we fall, if Arizona legalizes marijuana, there will be repercussions," Shindel assured. "Arizona, please, let's sit tight and let other states to the experimenting."
Prior to the Kingman Republican Women's presentation, a group from Arizona and Mohave County NORML (National Organization for Reform of Marijuana Laws) was passing out fliers in the parking lot for a marijuana public forum to be held 6-8 p.m. Sept. 29 at 212-B North 5th Street in downtown Kingman. They said the forum will provide "truthful, factual answers" to questions about Prop 205.
Among the reasons they cite for voting in favor of the initiative:
 Safer communities: Replace the underground business run by cartels and criminals and allow law enforcement to address more serious crimes.
 Regulation: Prop 205 requires businesses to test, label and properly package their products.
 Money for schools: Prop 205 is expected to generate $123.8 million in revenue for state and localities.
 Social justice: Adults will no longer be criminalized for using a product that is less harmful than alcohol, according to studies.
"I keep hearing so much about it not being as bad as alcohol," Shindel said. "I bet there'll be a day when they find out that it is. They say it's not addictive, it's only psychological. Well, that's what addiction is."
More like this story