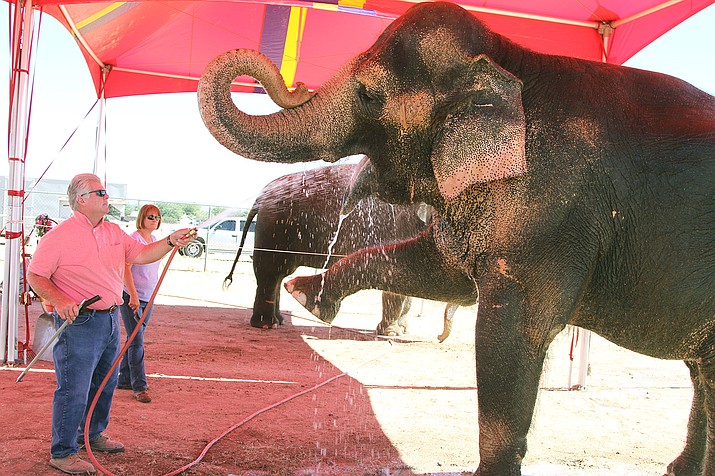 Photo by JC Amberlyn.
Originally Published: September 16, 2016 6:04 a.m.
KINGMAN – Fourth-graders from Diamondback Elementary School in Bullhead City were having a lively discussion about whether wild animals should perform in circuses as they crowded along the fence to watch two endangered Asian elephants being washed Thursday at the Mohave County Fair.
"They're not wild. They're trained," one boy noted.
Yeah, and besides, it's a fair, not a circus.
Tai and Rosie were big attractions on the opening day of the 70th annual Mohave County Fair, and by big, we mean a few tons. The elephants eat 200 pounds of food a day, the kids learned.
And they receive the best of care. They're bathed and their skin is scrubbed daily, and they get a monthly manicure. Their California owners are "proud supporters" of the International Elephant Foundation's many conservation and research projects.
It's the elephants' debut at the county fair, which runs through Sunday and is expected to draw 25,000 fairgoers. Cost to ride the elephants is $10. Photos are another $10.
Steven Kerr, teacher of the Diamondback fourth-graders, said his class just wrote an opinion paper about whether circuses should trap and keep wild animals, and most of the students were opposed.
"But some of them may have changed their minds," Kerr said. "For the long-term survival of the animals, maybe some of the kids will learn about conservation here."
It was school day at the fair, with more than 300 Mohave County students admitted free.
Friday is seniors' day.
Chelsey White brought 15 first-graders from Coyote Canyon Elementary School, also in Bullhead City, to teach them how to distinguish living things from nonliving things.
"Can it have feathers? Can it have fur? I think it's really informational for the kids. They love it," White said. "It helps us with the lesson because they see concrete things, and they see living things."
The teacher was quick to praise Victoria, one of her students, for recognizing the Arizona state flag design, a blue-ribbon winner in the crochet exhibit. White said she loves the county fair, too, and entered drawings in the fair as a child.
Shirley Greel, who moved to Lake Havasu City from Northern California five years ago, was attending her first Mohave County Fair and said it was "very wonderful."
She's a lapidarist and member of Lake Havasu Gem and Mineral Society, which is opening a store in October to sell members' works.
"I wanted to check it out. I'm going to make entries in jams and jellies next year," Greel said. "I'm into homemade jewelry. I find stones, cut the stones, polish the stones, wrap and sell the stones. And my husband makes beautiful turquoise-inlaid walking sticks."
It can't be a fair without carnival rides, and Brown's Amusement has set up some favorites such as the Tilt-a-Whirl, the Zipper, the Sizzler and the Graviton, all requiring four tokens, or $4, along with the Freak Out that requires two additional tokens.
For the smaller kids, there's the Whales, Dizzy Dragons, Quad Runner and other rides for three tokens.
Friday's entertainment features Branch and Dean at 6 p.m. and Redhead Express at 8 p.m. on the main concert stage. Hypno Joe, Magic of Olly and country-rock band Not Worthee are among the acts on Alta Sharp Entertainment Stage.
Saturday's highlight is the 4-H and FFA Parade of Champions and Livestock Auction at 6 p.m. in the livestock arena, along with music by Tiki Bandits at 6 p.m. and Firehouse at 8 p.m. on the concert stage.