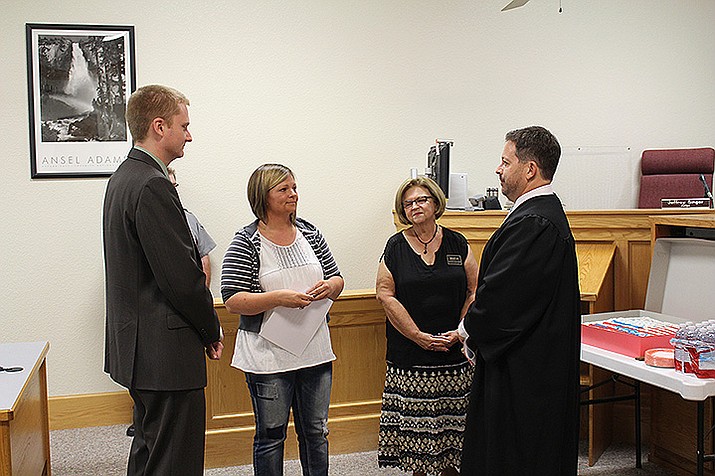 Photo by Bob Leal.
Originally Published: September 16, 2016 6:03 a.m.
KINGMAN – There were lots of smiles in a place not usually known for happy endings Wednesday.
The Veterans Treatment Court graduated its first member, U.S. Navy veteran Sarah Jones, before a packed room of 50 well-wishers at Kingman Municipal Court.
"We are so proud of you," said city Magistrate Jeff Singer, who presided over the proceedings.
"I feel good. I feel honored to have been able to do the program and to be the first one to graduate," said Jones. "Also, the first one from the Navy."
Veterans Treatment Court is a problem-solving court that is intended to serve veterans struggling with addiction, mental illness, post-traumatic stress disorder and/or reoccurring disorders, as well as any other issues a veteran may face, including housing, employment and education.
The court promotes sobriety, recovery and stability through a coordinated response that involves cooperation and collaboration with the city attorney, defense counsel, the Veterans Administration and other local agencies to give each participant the opportunity to be a productive, healthy veteran and citizen, according to a pamphlet published by the court.
"It's the most meaningful program I have ever been a part of. I am very proud of it. It's a way to give back to our veterans.
"Veterans are some of our most treasured citizens, and we owe them a lot," said Singer. "This is our way of giving back as well as the city of Kingman's way to help out."
During the graduation Singer read a letter Jones wrote. Singer had to pause a few times to gain his composure because the letter tugged on his strong emotional attachment to the Veterans Treatment Court.
The program lasts anywhere from six to 18 months. It is tailored for the specific needs of each veteran. It is not a cookie-cutter approach, said Singer, because each veteran is different.
"If they come into the treatment court and they graduate from the program a lot of times the charges will be reduced or dismissed," said Singer. But to get into the program, the prosecutors have to give the okay.
Jones' charge, relating to domestic violence, was dismissed.
"It's nice to have that all taken care of so I can continue on with my education and be a nurse practitioner," said Jones.
Singer mentioned that the odds of graduating are increased with the help of a mentor. Jones' mentor was Diane Stutts. Jones was represented in court by her attorney, Thomas Godfrey.