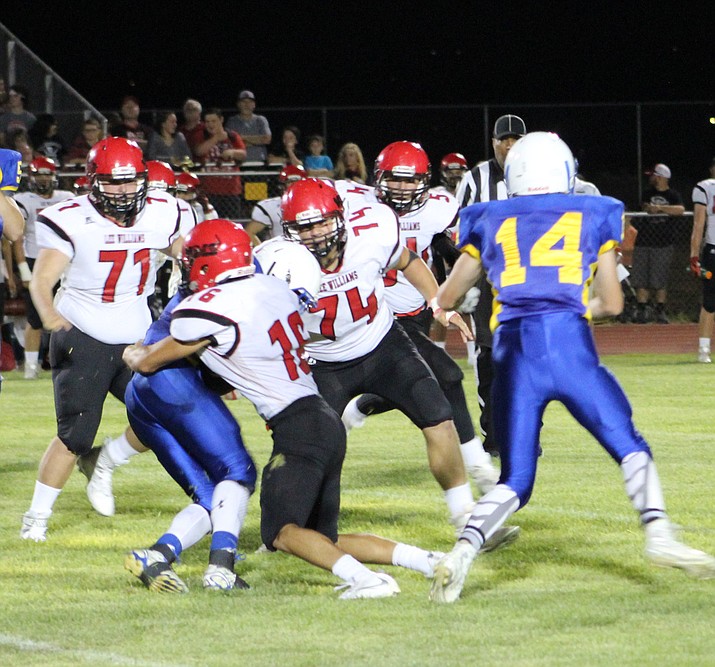 Photo by Shawn Byrne.

Originally Published: September 16, 2016 6 a.m.
KINGMAN – The Lee Williams football team's rallying cry this season has been "Find a Way." That's exactly what the Volunteers need to do when they host Mingus in the Grand Canyon Region opener for both teams at 7 p.m. today.
Mingus (1-2) is coming off an emotional win and upset last week over Glendale Cactus, 35-28. Cactus had one last drive late in the game when the Marauders held them on fourth-and-one on the Cobras 31-yard line to seal the win.
Mingus wants to play smash-mouth football. The Marauders have attempted only 28 passes compared to 120 running plays. Mingus runs the option and its seniors Jason Groth (5-11, 180) and Juan Ruiz (5-8, 170) do most of the damage. Groth has rushed for 322 yards on 44 carries in three games, and Ruiz has 180 yards on 29 touches.
Leading tacklers Michael Thomas (27 tackles), Andrew Davis (23), Kael Juelfs (14) and Marco Narvarte (14) are going to be busy bringing down Growth and Ruiz. Containing those two is necessary in order for the Vols to prevail.
Mingus put a hurting on Lee Williams (2-1) last year, 42-0, and the Vols are going to have to control the clock if they want to stay in the game. That means running backs Paul Giglio (5-8, 160) and Andrew Davis (6-1, 160) need to rush for positive yardage and not turn the ball over.
Giglio has 237 yards on 44 carries and three touchdowns, and Davis has rushed for 120 yards on 40 carries with one TD.
Expect to hear Nos. 40, 15 and 16 called out frequently when Mingus is on defense. Trevor Galloway (No. 40, 6-4, 225) leads the Marauders with 34 tackles. Chaz Taylor (No. 15, 6-3, 165) and Alex Nelson (No. 16, 5-10, 165) each have 22 on the season.
Opening up the Grand Canyon Region at 1-0 that includes a win over Mingus would be a big deal and a strong step for the Volunteers. If that is going to happen, Lee Williams will have had found a way.