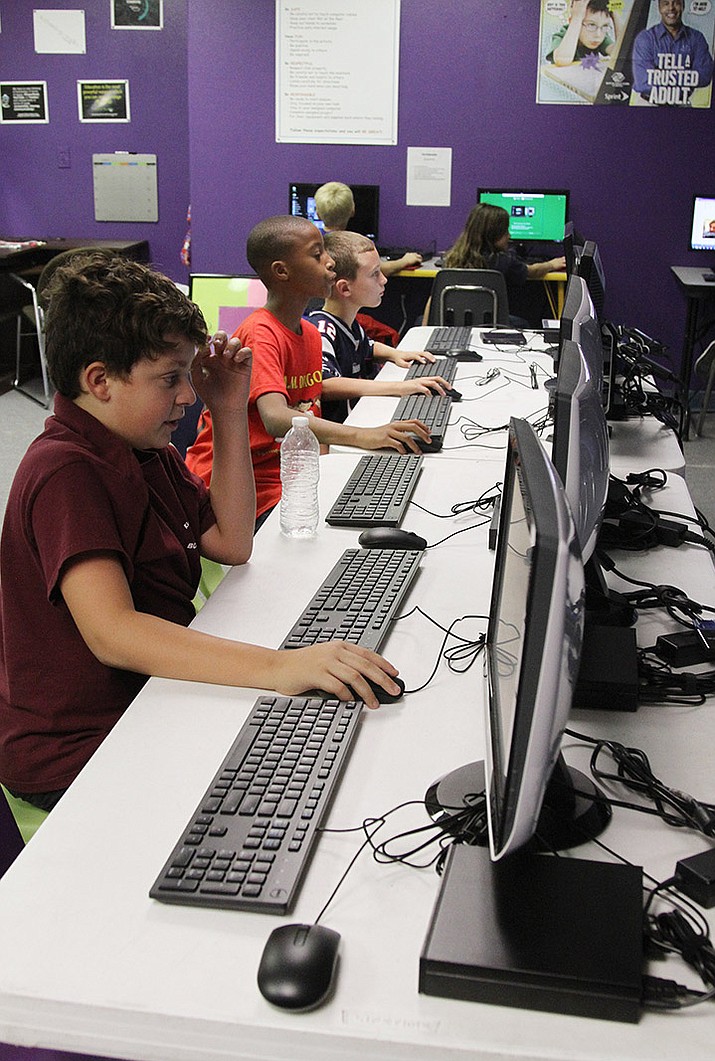 Photo by JC Amberlyn.
Originally Published: September 21, 2016 6 a.m.
KINGMAN – American Woodmark is helping to make the kids at the Boys and Girls Club a little more tech-savvy with a significant donation that was used to upgrade the computer lab.
The cabinet manufacturer donated about $11,200 to replace outdated computers at the club and purchase 12 new computers.
Today's kids, weaned on computers, embrace technology like no generation before them, and the Boys and Girls Club of Kingman is doing its part to educate youths on responsible use of technology, said Bill Ward, director of the club.
Expansion of the computer lab comes at a perfect time for the club as it continues to serve about 100 children a day, Ward said.
The club's technology program focuses on Microsoft Office, internet safety and security, social media, coding and video and photo editing.
Colleen Daugherty, supervisor of human resources at American Woodmark, said the company supports local nonprofit organizations and schools through the American Woodmark Foundation.
Winchester, Va.-based American Woodmark deposits a share of its profits into an interest-bearing savings account used for community donations, said Daugherty, who heads the foundation in Kingman.
American Woodmark, which employs about 600 people at its Kingman Airport plant, receives funding requests from a number of local groups, and after looking at what the Boys and Girls Club of Kingman does for the community, the foundation's board decided to help with replacement of the old computers. Part of the money came from the local plant, and the rest from the corporate pool, Daugherty said.
"They put in a request for what they wanted, and we wanted to make sure we could fulfill their whole need," Daugherty said. "Most of us have kids that go to the Boys and Girls Club. We usually give them something every year. We talked about the pros and cons and what we want to do. It was just a no-brainer."
The foundation wants to be part of creating the next generation of Kingman's employees and leaders, she said. It's important for American Woodmark to be an "outstanding citizen" through deep involvement in the overall betterment of the community, she added.
"If we gain anything, it's that our employees know what we do and it makes them proud to work here," Daugherty said.