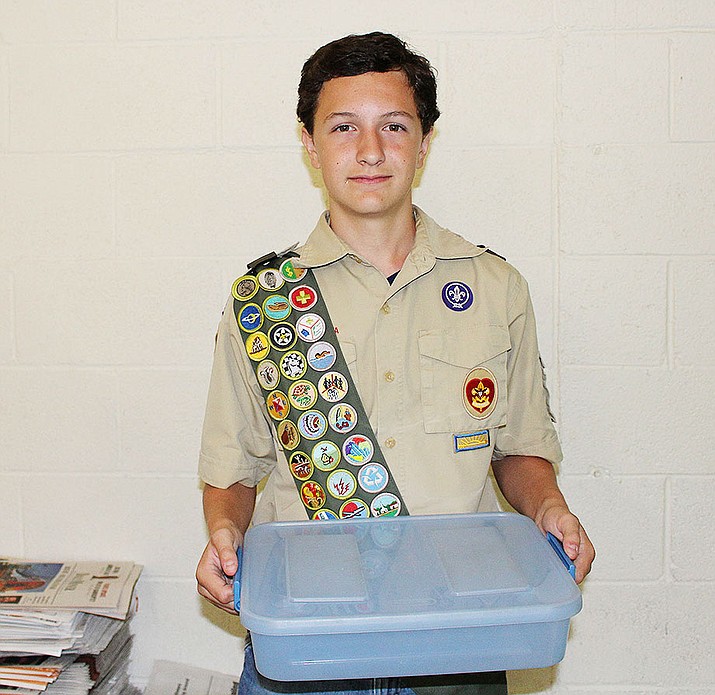 Photo by Bob Leal.
Originally Published: September 21, 2016 6 a.m.
KINGMAN – Boy Scout Nick Taflan is on a mission to earn the title of Eagle Scout, and if he succeeds, those visiting the Mohave County Library will benefit.
The 13-year-old, who is home-schooled, is going to place 22 plastic boxes with Legos and flats in them so library patrons can use their imaginations while building things.
Taflan, a member of Troop 98, got the idea from Kelly Moore, library assistant, senior.
"It was so exciting that he chose the Kingman Library for his Eagle Scout project," said Moore. "We're thrilled. We've been wanting to get a Lego Club started. It's exciting."
Now Taflan is looking for a little help. The plastic boxes are $4 a piece, and Legos are not cheap.
Taflan said he may get some financial help from Friends of the Library, but that hasn't been confirmed. If he doesn't get some help, plenty of car washes loom on the horizon.
The senior assistant patrol leader of Troop 98 has $45 for the project so far. He figures it will cost somewhere around $370.
"I have been in Scouts since I was 6 years old," said Taflan, who is following in his brother's footsteps. Joshua Taflan earned the Eagle Scout designation at age 14.
"It's worthwhile. It teaches you life skills. Lot of skills you'll be needing in the future." He mentioned personal management of money, first aid and physical fitness as benefits.
Taflan has earned 38 total badges in subjects such as welding, archery, chess, coin collecting and rifle. He said coin collecting and chess were his favorites. Thirteen required subject badges allowed him to pursue Eagle Scout.
"I go on lots of camping trips. Those are very fun," said Taflan. He said his troop participates in hikes and service projects during the outings.
When he's not Scouting, Taflan said he enjoys video games – Minecraft is his favorite – and playing soccer. He also likes to read. He is currently competing on the Under-16 soccer team sponsored by his family, Taflan's Quality Automotive.
If those in the community would like to help Taflan out, they can drop off used Legos, new Legos, flats (used as a base to build on) or cash to Taflan's Quality Automotive, 3030 E. Andy Devine Ave., Kingman. Or you can donate at the library, 3269 N. Burbank St.
"Any help would be greatly appreciated," said Taflan's mother, Wendi.
More like this story