Originally Published: September 25, 2016 6:03 a.m.
Updated as of Monday, September 26, 2016 1:18 PM
KINGMAN – An investigation has revealed that the woman who was shot to death Aug. 29 by a Kingman Police Department officer pointed a loaded and cocked .410 shotgun at him, according to the KPD, in a statement released in cooperation with the Mohave County Sheriff's Office, which continues its investigation into the incident.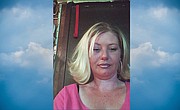 The MCSO has not completed its investigation, according to spokeswoman Trish Carter. Once complete, the findings will go to the Mohave County Attorney's Office for review, she said.
The officer involved is Evan Hopper, a seven-year veteran with KPD, who has since returned to duty. He was not wearing a body camera. Currently 50 percent of the officers are wearing body cameras. By the end of the year, KPD plans to have all of its uniformed patrol officers equipped with them.
After Paula Dell Phillips, 35, pointed the shotgun at Hopper, he fired his duty weapon four times, with three shots hitting Phillips, who was pronounced dead at the scene by emergency medical personnel, according to Kingman Police.
The following information, obtained by the KPD from the MCSO investigation, is an account of the night's events leading up to the shooting.
The incident unfolded at about 10:30 p.m., when Kingman 911 Dispatch Center received a call from a driver who said they were almost hit by another vehicle while driving in the 3900 block of Stockton Hill Road, according to the KPD. The other car was traveling at a high rate of speed, the caller reported.
Around 10:40 p.m., Hopper saw a white Lincoln Mark VII stopped with its lights out in the middle of Broadway Avenue, just off Stockton Hill Road. Phillips was standing outside the vehicle, near the driver's door.
Hopper stopped next to the vehicle to see if she was OK and if the car was broken down. Hopper then got out and checked the license plate of Phillips' car.
That's when Phillips leaned into her car and grabbed the .410 break-action shotgun, turned and pointed it Hopper. The distance between Phillips and Hopper was 10 feet. In fear for his life, Hopper then shot Phillips, according to the KPD.
Phillips was found to be in possession of several shotgun shells in her pocket and in her purse. From the time Hopper called over the radio that he was out of his vehicle and the time he called that shots had been fired was about 40 seconds, KPD said.
Investigators noticed a strong odor of an alcoholic beverage coming from Phillips. They also found various prescription pills identified as narcotics inside the vehicle and in Phillips' purse.
It was determined that Phillips was in possession of a cellphone that had been used to call the Mohave County Sheriff's Office 911 at 10:09 p.m.
During the call, a woman, thought to be Phillips, reported, "There's a white Lincoln Marquee running down Stockton Hill. They're armed. Armed. AKs, shotguns." Carter denied a request from the Miner for a copy of the 911 recording, saying the investigation remains active.
Early the next morning investigators spoke to Phillips' parents. They learned that over the last several days Phillips had been despondent and depressed over an abusive relationship. Phillips had been abusing alcohol and drugs and had attempted suicide several times in the past by taking pills, according to KPD.
Her parents, Jimmy and Laurie Phillips, felt that she may have tried to hurt herself that night. Earlier in the evening Phillips had taken her father's Lincoln Mark VII without his permission and was in possession of his shotgun, KPD reported.
Phillips wanted the shotgun for protection against the abusive ex-boyfriend, of whom she was fearful. They had last spoken to their daughter on the telephone at 10 p.m. and knew that she was intoxicated, using drugs and that she may have wanted to harm herself, KPD reported.
Related Stories