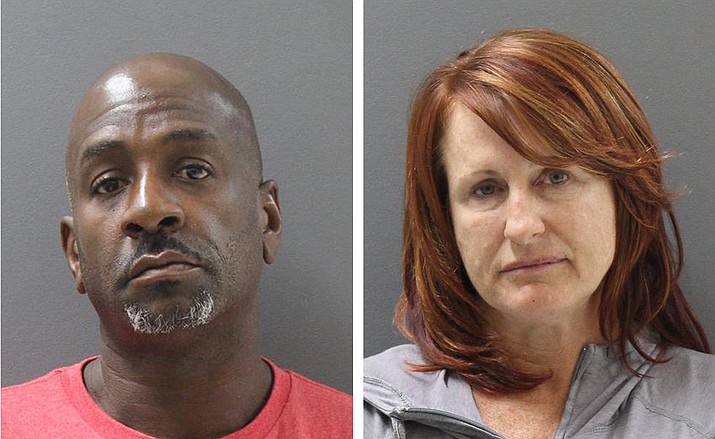 Originally Published: September 27, 2016 6:02 a.m.
Updated as of Monday, October 3, 2016 11:06 AM
PRESCOTT – Two Kingman residents were arrested Friday in Seligman and charged with murder in a case from 2015 in Phelan, Calif.
Dale Brewster, 45, and Debbie Harris, 48, were taken into custody and booked into the Yavapai County jail in Prescott. Bail was set at $1 million for each of them.
Both Brewster and Harris are charged with killing Allan Rick Godfrey, 39, and burying his body in a shallow low grave.
Godfrey was living on Brewster and Harris' property in Phelan. The unincorporated community is in San Bernardino County, Calif., in the Victor Valley of the Mohave Desert, north of the San Gabriel Mountains, 30 miles east of Palmdale.
On April 17, 2015, Brewster called the San Bernardino County Sheriff's Department and reported that he and Godfrey had gotten into a fight. Brewster told deputies that after the fight Godfrey ran away from the property.
Shortly afterwards Godfrey's family reported him missing and filed a missing person report.
On Dec. 8, 2015, a dirt bike rider in Llano, Calif., in Los Angeles County, discovered human bones that turned out to be Godfrey.
Homicide investigators assumed the investigation, which led them to Brewster and Harris. Homicide detectives met with sheriff's personnel from the Yavapai County Sheriff's office and arrested Brewster and Harris at a motel in the 22200 block of Route 66, Seligman.
Anyone with information on this case is asked to contact Detective Tina Kirby or Sgt. Greg Myler at 909-387-3589.
Telephone calls also can be left anonymously at 800-78-CRIME (27463).