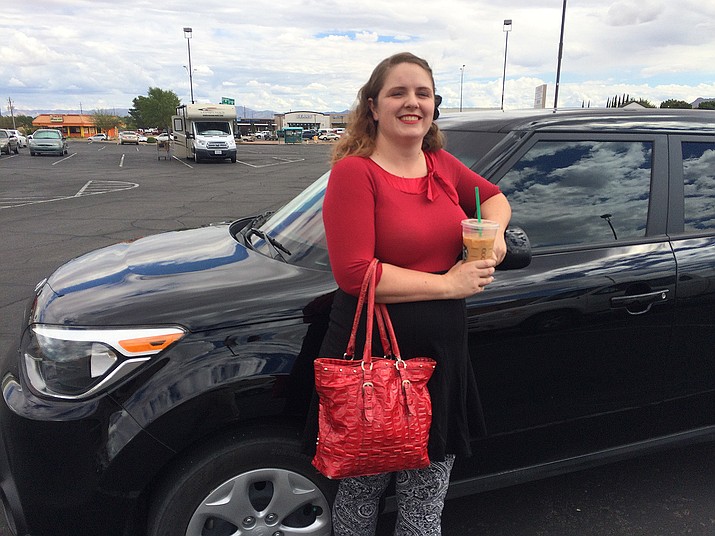 Photo by Hubble Ray Smith.
Originally Published: September 30, 2016 6:02 a.m.
KINGMAN – Christina Mills figured she could earn a little extra income driving for Uber, the app-based transportation network that has radically changed the way people get around in big cities and infuriated taxi cab drivers to the point of acts of violence.
Uber's web site says you can work when you want, be your own boss, set your own schedule and make as much money as you're willing to drive. You can cash out any time with instant pay.
That hasn't worked out so well for Mills, who works in marketing for Mother Road Harley-Davidson in Kingman.
She posted on her Facebook page that Uber is now in Kingman, and was wondering why she wasn't getting any ride requests, other than one $6 fare she collected for taking a couple of truck drivers from the Flying J truck stop to Sakura sushi and grill.
"Turns out there's a problem with the app," Mills said. "Riders saw me on the app, but it said, 'This vehicle not available. Try again shortly.' My sister and friend tried it and all got the same response."
Mills attempted to contact Uber at the company's San Francisco headquarters, but was only able to do so through email. She said she must have sent 10 emails, and got responses to reinstall the Uber app, reset her phone to factory settings, log out and log back in.
Still no progress. Uber checked her end and everything was fine, she said. Her 2015 Kia Soul is registered and insured and passed the inspection when she took it to an Uber representative in Lake Havasu City. The higher the vehicle is rated, the more drivers can charge.
"I'm just so frustrated. I don't want to smear Uber. I just want it resolved," Mills said Wednesday. "I feel like I'm talking to a robot, some intelligent software."
She looked up a telephone number for Uber, but when she called, it was a "foul-mouthed prank," she said. "'Uber can suck my' … you know."
Mills' sister is driving for Uber in Flagstaff, and she thought it was already up and running in Kingman. The Kingman app comes up on the Uber Ride Guide page.
Uber is available in Kingman, the page says. Apps are available on iPhone Android and Windows phones. It offers helpful hints and tips for first-time Uber riders in Kingman, including fares and schedules and a discount coupon code.
"It's pretty good money if you do it steady," Mills said. "I just assumed it was nationwide. I didn't realize it was trickling down from urban areas to smaller towns."
Her Kingman clientele will be mostly truckers and partiers who don't want to call a cab because it's too expensive, she said.
"Uber's here, it just doesn't work for me," Mills said. "All I can do is wait and try again in the future. I just want it to be fixed."
Uber, which started in Paris and has expanded to 400 cities in 65 countries, provides an alternative to traditionally expensive taxi service or public transportation that can take hours to go a few miles.
Several people on Facebook have asked about Uber coming to Kingman. One man posted that he was turned down by Uber because of a speeding ticket in Kingman, but was able to drive for Lyft, a competitor of Uber.