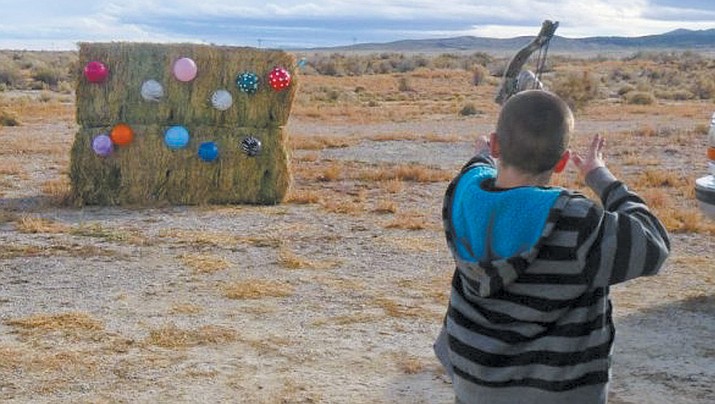 Originally Published: April 3, 2017 5:55 a.m.
KINGMAN – An upcoming event will cater to a huge local demographic – gun lovers.
The first Kingman Range Days will be held 10 a.m. to 5 p.m. Saturday at the Seven Mile Hill Range, 3155 W. Oatman Rd. in Golden Valley.
"This is a first year for this type of event and we'll do it annually if all goes well," said Ben Moyer, owner of Bank Street Guns.
His business is one of 12 sponsors that pitched in to the family event that will give both kids and adults a chance to participate in multiple firearms and archery shooting events to raise awareness about shooting sports.
The sponsors have paid for and donated guns, ammo, coaching staff and prizes. So far those prizes include nine guns, four bows, a gun safe, ammunition and other shooting and archery accessories.
"When I moved to Kingman, all I heard was 'There's nothing to do in Kingman,'" Moyer said.
The Mohave Sportsman Club operates Seven Mile Hill Range, the second-largest shooting facility in the state, and is hosting Range Days. Arizona Game and Fish provides grants for shooting programs catering to all ages and family members.
"What I've found that people move here and they don't know about is the shooting center. They don't know it's available to use," Moyer said. "It's available at a low cost and good for the whole family."
The club will open the range for the event at no cost. Moyer said there is world-class equipment at the range capable of forging potential Olympic athletes. He and other sponsors just need to make the best use of that asset as possible. There's enough money and mentorship but not enough publicity.
"Parents haven't heard of it and there's just not enough kids interested," said Moyer. "We've got good coaching. We just need to get kids involved."
"Kingman has the second largest shooting sport range in the state," he added. "Being such as huge gun loving community, it doesn't seem right we're not teaching (kids) to shoot more."
Moyer said the enthusiasm of the local business community was overwhelming.
"All the gun shops came together and other local business jumped at it," he said. "Nobody turned me down."
He added that corporations would've helped, but didn't have enough time to work the logistics. Moyer hopes the event attracts future corporate sponsorship, particularly from major gun manufactures such as Ruger and Smith and Wesson.
He has about 50 volunteers donating time, guns and ammo. They'll be NRA-certified during an eight-hour class before the event.
"We're not going to let anyone on the range with subpar training," said Moyer.

The sponsors have chipped in for a charter bus rental to haul people to the range. There will also be food trucks on site for the long day of shooting.

Kids ages 8 to 18 shoot for free. Adults have to pay. All kids get a free raffle ticket and adults a free ticket for each child they bring. The raffle goes toward drawing for guns, accessories and prizes including guns, ammo, range memberships, concealed carry classes and fishing trips courtesy of local hunter, fisherman and outdoorsman Don Martin.
"What's unique is that this is all put on and funded by local businesses in the community," Moyer said.
Range Days is a family event, but kids under 18 must be accompanied by a parent or guardian.
For more information, visit the event website at www.kingmanrangedays.com.